RG
SPEC
SPECS

neck type

RG j.custom Super Wizard AS

5pc Maple/Wenge neck

top/back/body

AAA Flamed Maple (4mm) top

Alder body

fretboard

Macassar Ebony fretboard

Tree of Life inlay

fret

Jumbo frets

j.custom fret edge treatment

bridge

Lo-Pro Edge bridge

neck pickup

DiMarzio® PAF® 36th Anniversary (H) neck pickup

Passive/Alnico

middle pickup

DiMarzio® True Velvet™ (S) middle pickup

Passive/Alnico

bridge pickup

DiMarzio® The Tone Zone® (H) bridge pickup

Passive/Alnico

factory tuning

1E,2B,3G,4D,5A,6E

strings

D'Addario® EXL120

string gauge

.009/.011/.016/.024/.032/.042

hardware color

Satin Black

NECK DIMENSIONS

d : Thickness

19mm

at 12F

DESCRIPTION

Guitar Neck Diagram
a: Width of the neck at the nut
b: Width of the neck at the fret position specified by the neck dimension
c: Thickness of the neck at the first fret
d: Thickness of the neck at the fret position specified by the neck dimension
Radius: Radius of the fingerboard

SWITCHING SYSTEM

DESCRIPTION

When the coil tap switch is in neck position, the coil tap is on. When the coil tap switch is in the bridge position, the coil tap is off. When coil tap is off and the pickup selector switch is in neck position, the neck pickup is selected. When the switch is in between neck and center position, the neck pickup and the center pickup are selected. When the switch is in center position, the center pickup is selected. When the switch is in between center and bridge position, the center pickup and the neck side of the bridge pickup are selected. When the switch is in bridge position, the bridge pickup is selected. When coil tap is on and the pickup selector switch is in neck position, the neck side of the neck pickup is selected. When the switch is in between neck and center position, the bridge side of the neck pickup and the center pickup are selected. When the switch is in center position, the center pickup is selected. When the switch is in between center and bridge pickup, the center pickup and the neck side of the bridge pickup are selected. When the switch is in bridge position, the neck side of the bridge pickup is selected.

CONTROLS

DESCRIPTION

With the guitar held in the playing position, there is one knob and one switch along the lower edge of the body. On the lower edge of the body, towards the neck, is the five-way selector switch. Closest to the end of the body is the tone knob. The volume knob is located right above the five-way pickup selector switch. Between the volume and tone knobs is a coil tap switch. When the switch is in neck position, coil tap is on. When the switch is in bridge position, coil tap is off.

OTHER FEATURES

Gotoh® Strap lock pins

Deep and beveled lower horn scoop
Features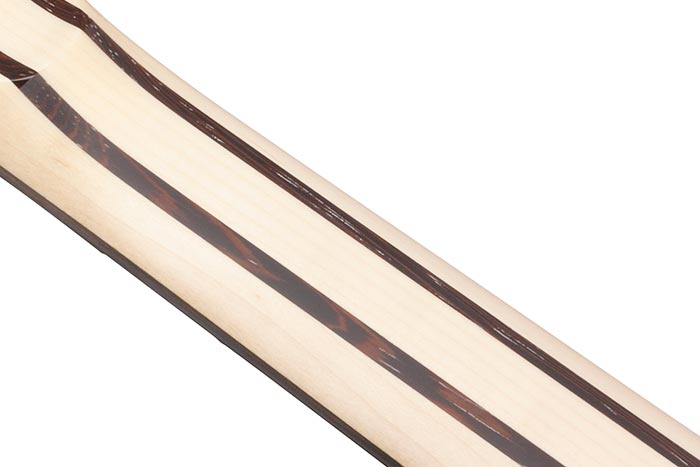 Super Wizard AS 5pc Maple/Wenge neck
This Super Wizard AS neck has a more rounded shape towards the bass side, while still retaining the overall thickness of the Super Wizard profile– 17mm at nut and 19mm at 12th fret. This asymmetric shape provides a more comfortable grip and natural feel that makes techniques like sweeping and string skipping much easier.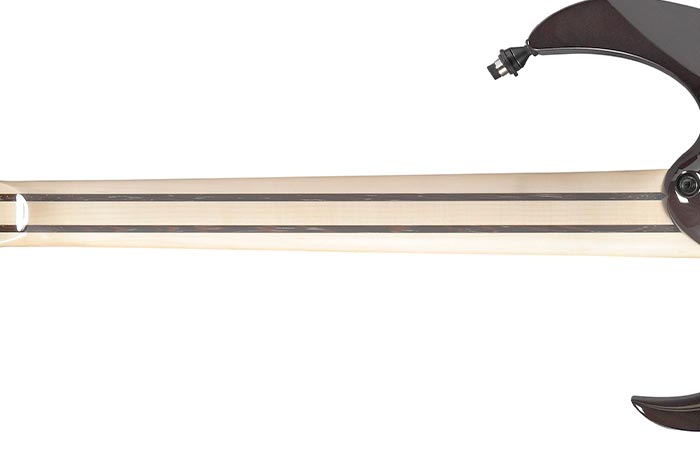 Special j.custom Neck
j.custom Super Wizard neck includes jumbo frets finished with our j.custom special fret edge treatment for a super smooth and comfortable performance. The "Velvetouch" finish on the back of the neck ensures a "just right" feel and easy playability.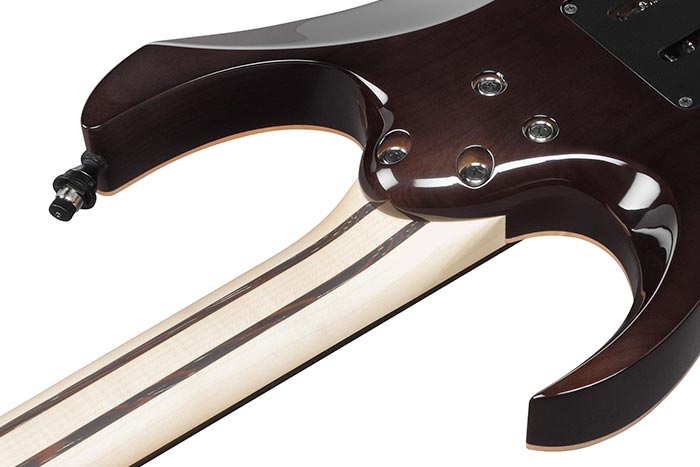 All Access Neck Joint
All Access Neck Joint offers superior playability at the high frets.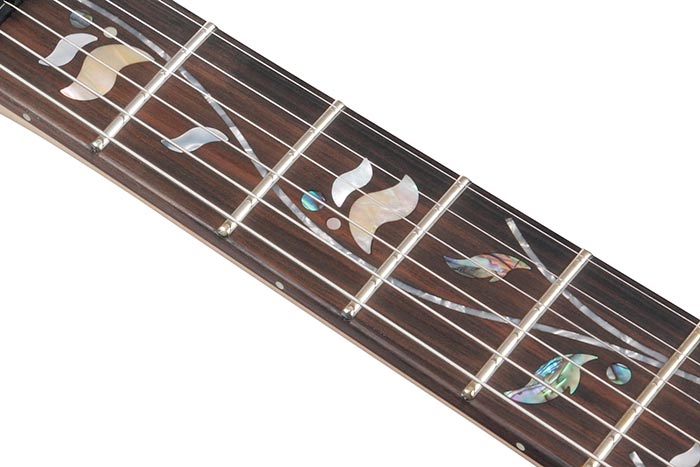 Macassar Ebony fretboard
Macassar Ebony produces tight lows and mid range along with strong attack in the highs and quick response with rich sustain.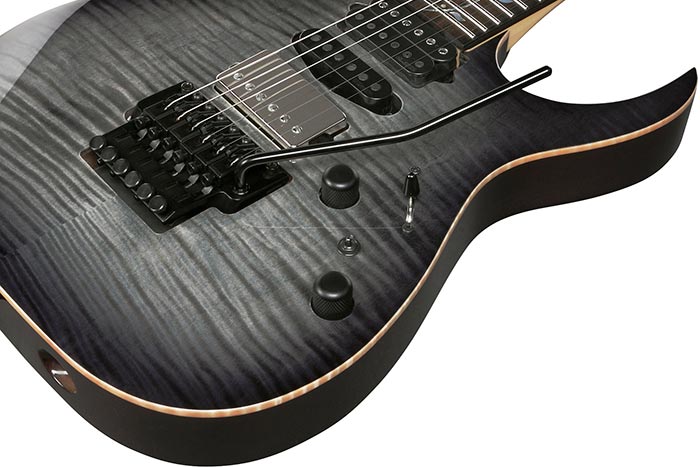 Selected Flamed Maple top(4mm) / Alder body
Selected Flamed Maple top(4mm) flaunts a beautiful wood grain. The Alder body delivers a well-balanced bright tone, enriched resonance and sustain.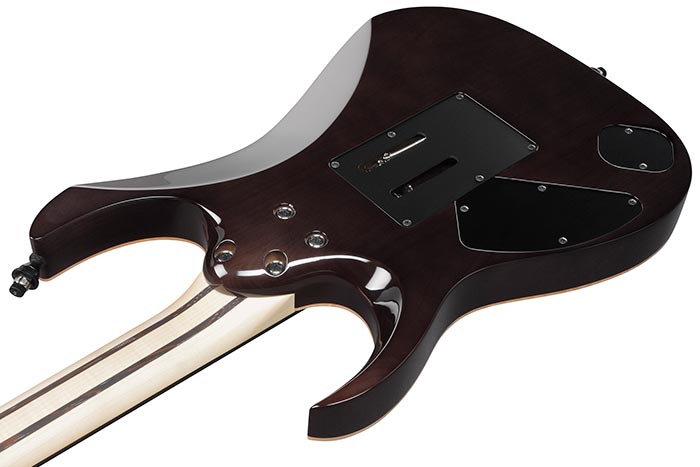 Chambered body
The chambered body not only contributes to a lighter overall weight, but also adds just the right amount of bottom and clarity, which is preferred by today's metal players.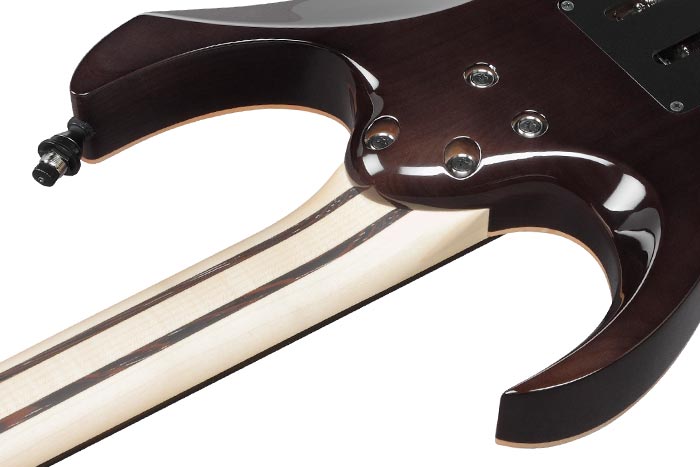 Deep and beveled lower horn scoop
It allows better and multidirectional high fret access.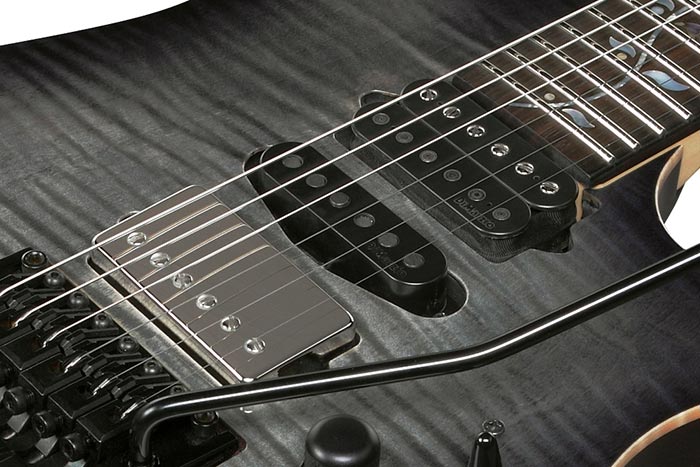 DiMarzio® PAF® 36th Anniversary / True Velvet™ / The Tone Zone® pickups
The DiMarzio® PAF® 36th Anniversary pickup features a soft magnetic field, sweet tone, perfect balance between warmth and clarity and the ability move between clean and distorted by just the intensity of the pick attack. This pickup, combined with the DiMarzio® True Velvet™ and Tone Zone® offers depth, warmth and very rich dynamics.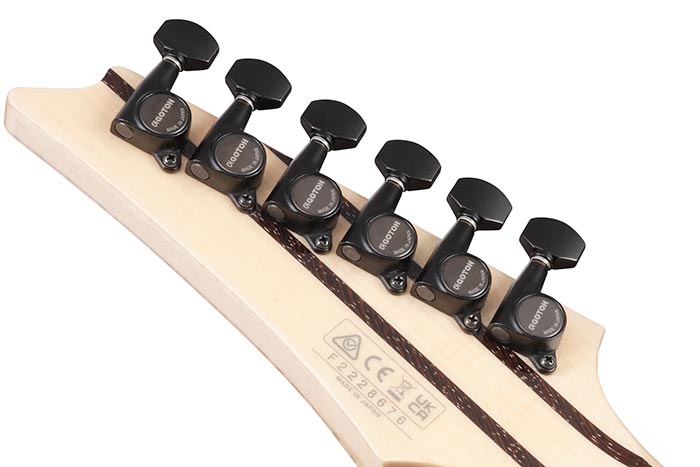 Gotoh® machine heads
Gotoh® machine heads provide superior precision, a smooth feel, and excellent tuning accuracy.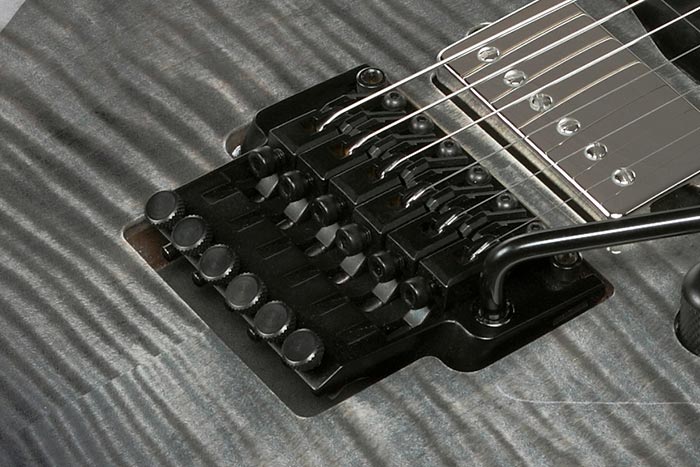 Lo-Pro Edge tremolo
The legendary Lo-Pro Edge bridge offers maximum playing comfort with its streamlined profile and recessed fine tuners. Locking studs contribute to tuning stability.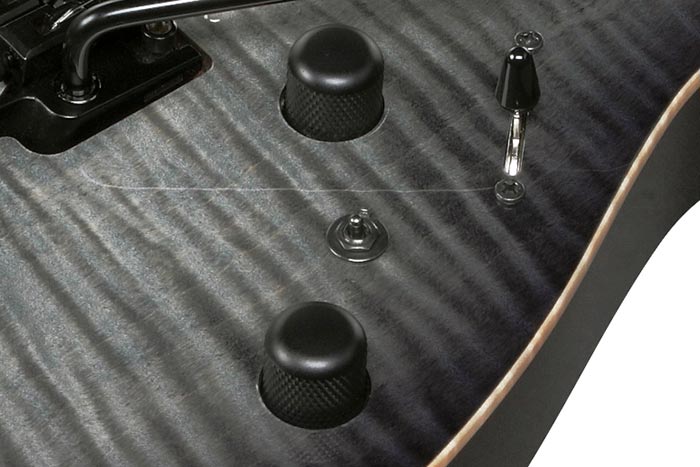 Coil-tap switch
The coil tap switch adds sound and tonal variations for both pickups.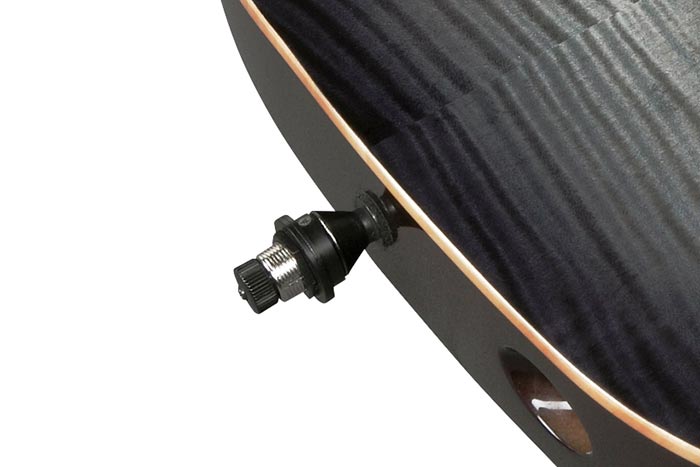 Gotoh® Strap lock pins
Gotoh® Strap lock pins protect your guitar from falling under tough stage performance.
YOUR RECENTLY VIEWED PRODUCTS