SRMS805


DTW

:

Deep Twilight

TSR

:

Tropical Seafloor
SR
SPEC
SPECS

neck type

SRMS5 for Multi Scale

5pc Jatoba/Walnut neck

top/back/body

Poplar Burl top

Okoume body

fretboard

Bound Panga Panga fretboard

Acrylic special inlay

neck pickup

Bartolini® BH2 neck pickup

Passive

bridge pickup

Bartolini® BH2 bridge pickup

Passive

equaliser

Ibanez Custom Electronics 3-band EQ w/ EQ bypass switch (passive tone control on treble pot) & 3-way Mid frequency switch

factory tuning

1G,2D,3A,4E,5B

strings

D'Addario® EXL170-5SL

string gauge

.045/.065/.080/.100/.130

NECK DIMENSIONS

Scale :

901.7mm/35.5" - 864.0mm/34.0"

c : Thickness

19.5mm

at 1F

DESCRIPTION

Guitar Neck Diagram
a: Width of the neck at the nut
b: Width of the neck at the fret position specified by the neck dimension
c: Thickness of the neck at the first fret
d: Thickness of the neck at the fret position specified by the neck dimension
Radius: Radius of the fingerboard

CONTROLS

DESCRIPTION

With the bass held in the playing position, there are three small knobs located towards the lower edge of the body. Directionally, from the lower bout towards the neck these knobs control treble boost/cut, mid boost/cut, and bass boost/cut knob. Above these are two larger knobs closer to the bridge. Of these, the knob closest to the end of the body is the pickup balance, and the knob located towards the neck is the volume knob. There are two switches on this bass. The switch closest to the lower edge of the body is a 3-way mid frequency switch. When the switch is in neck position, mid boost peak is at 250Hz. When the switch is in center position, mid boost peak is at 450Hz. When the switch is in bridge position, mid boost peak is at 700Hz. The other switch closer to the middle of the bass is the EQ bypass switch. When the switch is in neck position, the EQ is off. When the switch is in bridge position, EQ is on. When EQ is off, the treble knob works as a passive tone control knob.

FREQUENCY RESPONSE

DESCRIPTION

The bass boost/cut frequency curve has a peak at 20 Hz, the variable width becomes smaller toward the high range, and the variable width becomes zero at about 1000 Hz. The variable range of the peak frequency is approximately ±15 dB. The treble boost/cut frequency curve draws a mountain-shaped curve with a peak at around 10,000 Hz and zero variable range around 100 Hz. The variable range of the peak frequency is approximately ±15 dB. The mid-boost/cut frequency curve creates a bell-shaped curve that peaks at a specific frequency, and the variable range becomes zero near 20 Hz and around 10,000 Hz. The frequency peak can be switched to 700, 450 and 250 Hz. The variable range of the peak frequency is approximately ±15 dB.

OTHER FEATURES
Features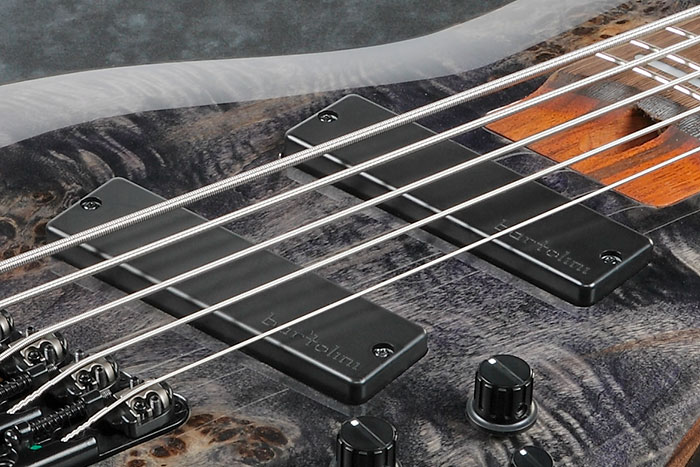 Bartolini® BH2 pickups
The Bartolini® BH2 pickups provide a tight bottom-end, punchy mid-range, and smooth response. The dual-coil style configuration maximizes articulation and a long blade pole piece widens the magnetic field, providing balanced string-to-string pickup response.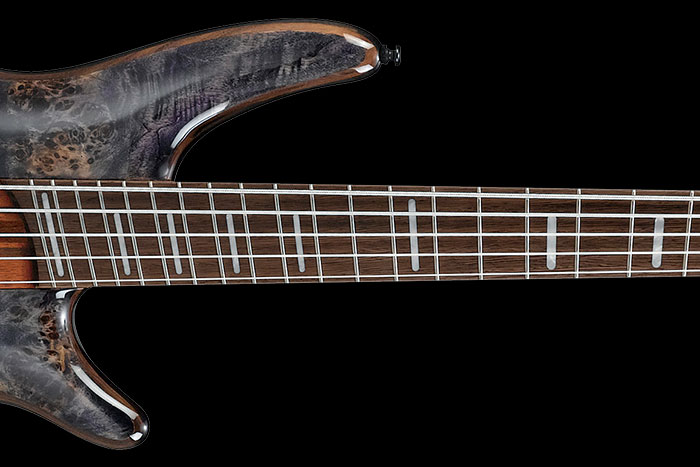 Multi scale
Equalized tension helps to create a more "alive", open tone. But the design also improves player comfort. The multi scale construction ergonomically coordinates with the way a player's hand angles as it moves up and down the neck, facilitating quick, comfortable playing action.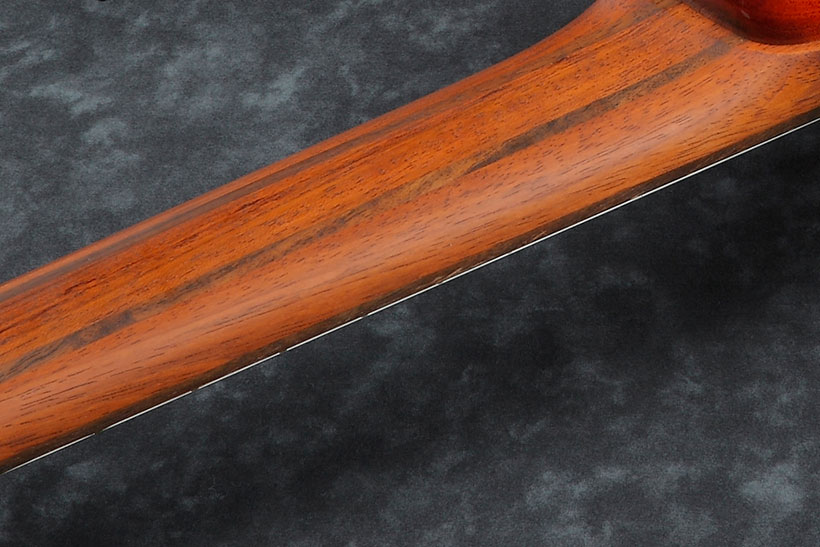 SRMS for Multi Scale 5pc Jatoba/Walnut neck
Two of the most rigid and musical hardwoods set against one another to provide a thin neck with reliable long-term harmony.
YOUR RECENTLY VIEWED PRODUCTS