 SDGB
SPEC
SPECS

neck type

SDGB

9pc Maple/Bubinga/Panga Panga w/Graphite reinforcement rods

Neck-through

top/back/body

Flamed Maple top

Ash/Okoume wing body

fretboard

fret

bridge

string space

neck pickup

Nordstrand™ Big Single neck pickup

Passive

bridge pickup

Nordstrand™ Big Single bridge pickup

Passive

equaliser

Vari-mid 3-band EQ w/ EQ bypass switch (passive tone control on treble pot)

factory tuning

strings

string gauge

hardware color

NECK DIMENSIONS

Scale :

a : Width

b : Width

c : Thickness

d : Thickness

Radius :

DESCRIPTION

Guitar Neck Diagram
a: Width of the neck at the nut
b: Width of the neck at the fret position specified by the neck dimension
c: Thickness of the neck at the first fret
d: Thickness of the neck at the fret position specified by the neck dimension
Radius: Radius of the fingerboard

CONTROLS

DESCRIPTION

With the bass held in the playing position, there are three knobs along the lower edge of the body. From the lower bout towards the neck these knobs control treble boost/cut, mid boost/cut, and bass boost/cut knob. The mid control is a concentric knob with the mid frequency control on the bottom and mid boost/cut control on the top. Above these are two larger knobs closer to the bridge. The two knobs closest to the bridge are the volume and balance knobs. When the switch is in bridge position, EQ is on. When EQ is off, the treble knob works as a passive tone control when in passive mode.

FREQUENCY RESPONSE

DESCRIPTION

The bass boost/cut frequency curve has a peak at about 20 Hz, the variable width becomes smaller as it goes to the high range, and the variable width becomes zero at around 1000 Hz. The variable range of the peak frequency is approximately ±20 dB. The treble boost/cut frequency curve draws a curve with a peak at around 20000 Hz and a variable width of zero near 100 Hz. The variable range of the peak frequency is approximately ±20 dB. The mid-boost/cut frequency curve creates a bell-shaped curve that peaks at a specific frequency, and the variable range becomes zero near 20 Hz and around 10,000 Hz. The frequency peak varies from around 100 Hz to around 6000 Hz. The variable range of the peak frequency is approximately ±15 dB.

OTHER FEATURES
Features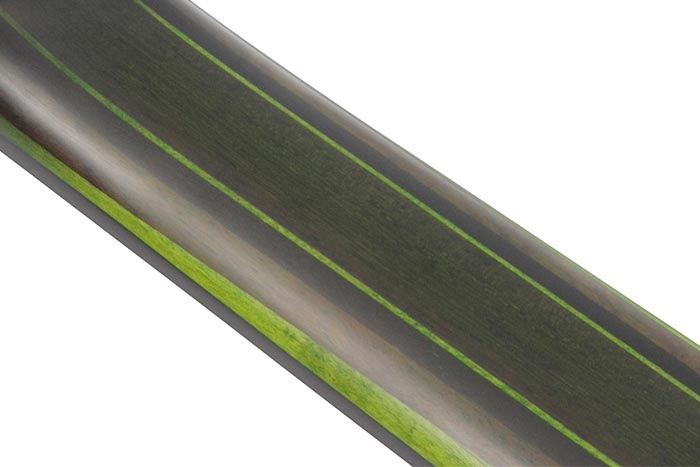 9pc Maple/Bubinga/Panga Panga neck with Graphite reinforcement rods
The 9-piece Maple/Bubinga/Panga Panga neck provides superior note attack, tight lows and increased sustain. The Graphite reinforcement rods provides massive sustain and excellent stability.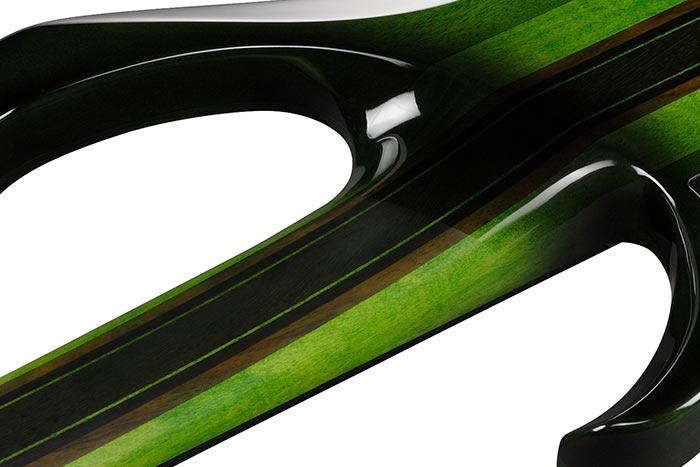 Neck-through construction
The neck-through construction contributes to massive sustain and smooth access to high fretboard positions.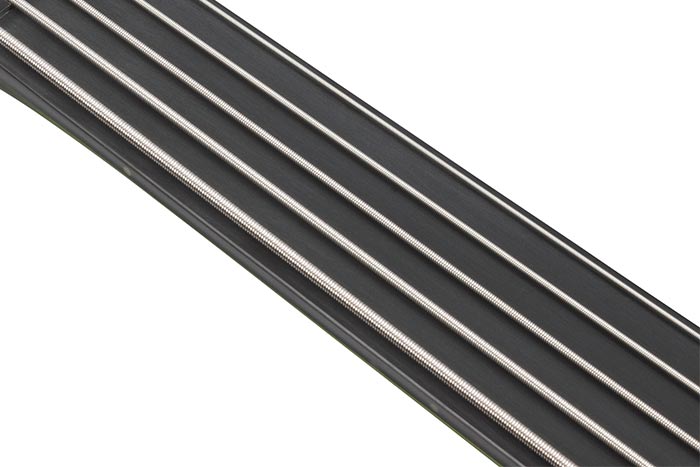 Ebonol fretboard
Ebonol is a synthetic material which is made from layers of black paper and phenolic resin. An Ebonol fretboard provides tight and bright sound.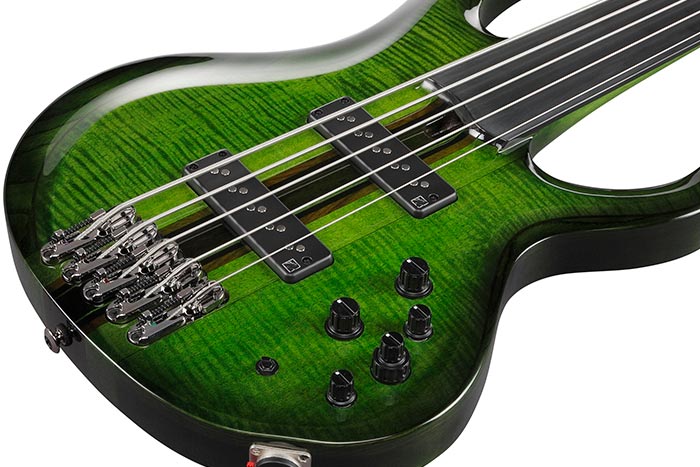 Flamed Maple top / Ash / Okoume wing body
The Flamed Maple top displays a beautiful wood grain and the Ash/Okoume wing body delivers a pleasant brightness and rich sustain.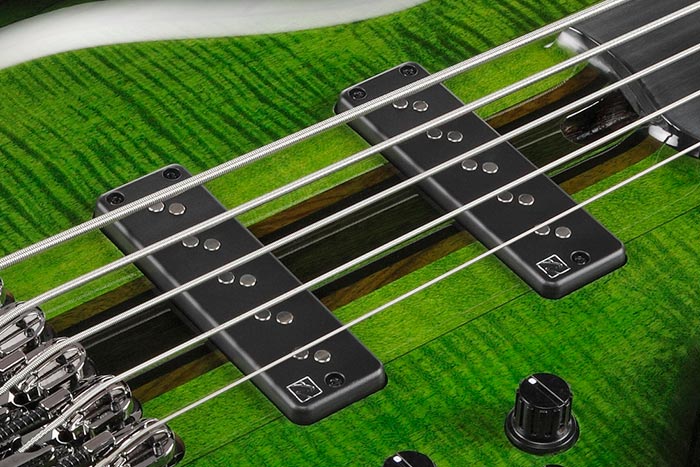 Nordstrand™ Big Single pickups
Nordstrand™ "Big Single" cram a meaty single coil into a soapbar-style pickup, producing a full-bodied, powerful, aggressive tonal texture, while still retaining the clarity that's characteristic of single coil pickups.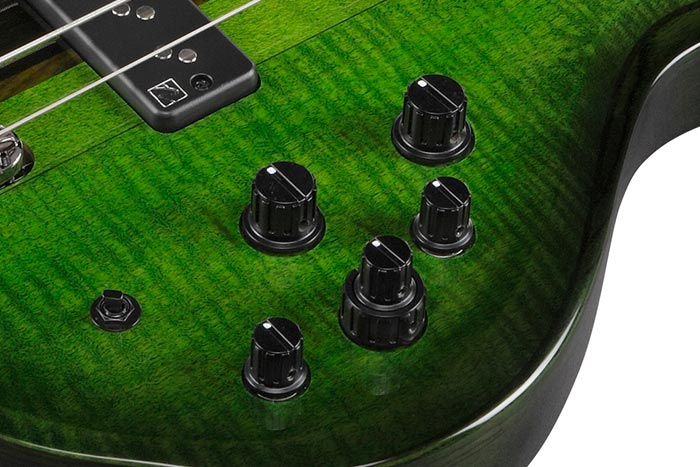 Vari-mid 3-band EQ
The Vari-mid 3-band EQ features a variable mid-frequency control which allows you to dial in an incredibly wide range of sounds.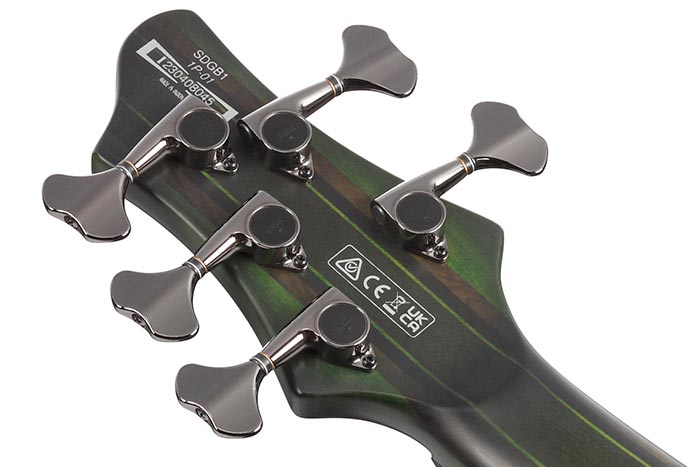 Gotoh® machine heads
Gotoh® machine heads provide superior precision, a smooth feel, and excellent tuning accuracy.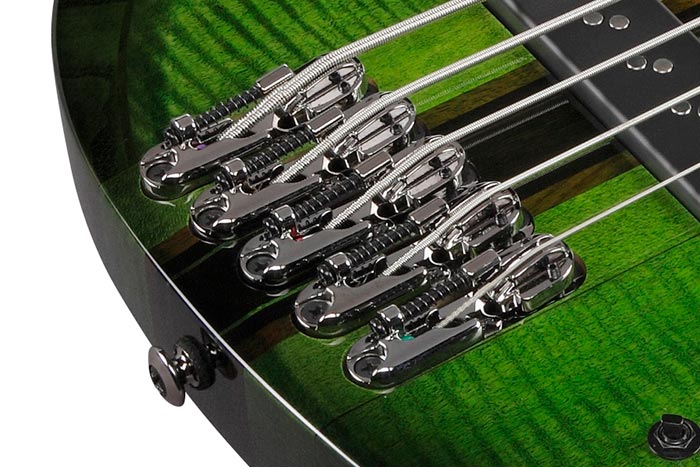 MR5 bridge
The Mono-Rail V is the ultimate bridge for bass string isolation. Each bridge is independently and securely locked down to the body for maximum vibration transfer without interference.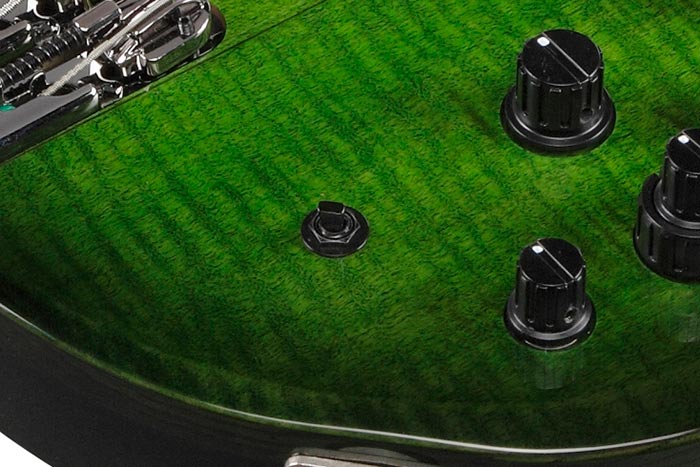 EQ bypass switch (passive tone control on treble pot)
The EQ bypass control offers precision tonal adjustments, including a switch to choose passive-only operation. When the EQ bypass is activated, the treble tone control knob becomes the global tone control for the passive circuit.
YOUR RECENTLY VIEWED PRODUCTS