RGT1221PB RG
SPEC
SPECS

neck type

Wizard III

7pc Maple/Walnut

Neck-through

top/back/body

Poplar Burl (3mm) top

American Basswood body

fretboard

Ebony fretboard

Acrylic & Abalone block inlay

fret

Jumbo Stainless Steel frets

Premium fret edge treatment

neck pickup

DiMarzio® Air Norton™ (H) neck pickup

Passive/Alnico

bridge pickup

DiMarzio® The Tone Zone® (H) bridge pickup

Passive/Alnico

factory tuning

1E,2B,3G,4D,5A,6E

strings

D'Addario® EXL110

string gauge

.010/.013/.017/.026/.036/.046

hardware color

Cosmo black

NECK DIMENSIONS

d : Thickness

21mm

at 12F

DESCRIPTION

Guitar Neck Diagram
a: Width of the neck at the nut
b: Width of the neck at the fret position specified by the neck dimension
c: Thickness of the neck at the first fret
d: Thickness of the neck at the fret position specified by the neck dimension
Radius: Radius of the fingerboard

SWITCHING SYSTEM

DESCRIPTION

When the alter switch is in neck position, power tap mode is on. When the alter switch is in bridge position, power tap mode is off. When power tap mode is off and the pickup selector switch is in neck position, the neck pickup is selected. When the switch is in between neck and center position, bridge side of the neck pickup and neck side of the bridge pickup are selected. When the switch is in center position, both neck and bridge pickups are selected. When the switch is in between center and bridge position, the neck side of the neck pickup and the bridge side of the bridge pickup are selected. When the switch is in bridge position, bridge pickup is selected. When power tap mode is on and the pickup selector switch is in neck position, the neck pickup is selected and in power tap mode. When the switch is in between neck and center position, bridge side of the neck pickup is selected. When the switch is in the center position, both neck and bridge pickups are selected and are both in power tap mode. When the switch is in between center and bridge position, the bridge side of the bridge pickup is selected. When the switch is in bridge position, bridge pickup is selected and is in power tap mode.

CONTROLS

DESCRIPTION

With the guitar held in the playing position, there is one knob and one switch along the lower edge of the body. Closest to the knee cutout is the five-way pickup selector switch. Closest to the end of the body is the tone knob. The volume knob is located right above the five-way pickup selector switch. Between the volume and tone knobs is the alter switch.

OTHER FEATURES

Gotoh® MG-T locking machine heads

dyna-MIX10 switching system w/Alter Switch

Luminescent side dot inlay
Features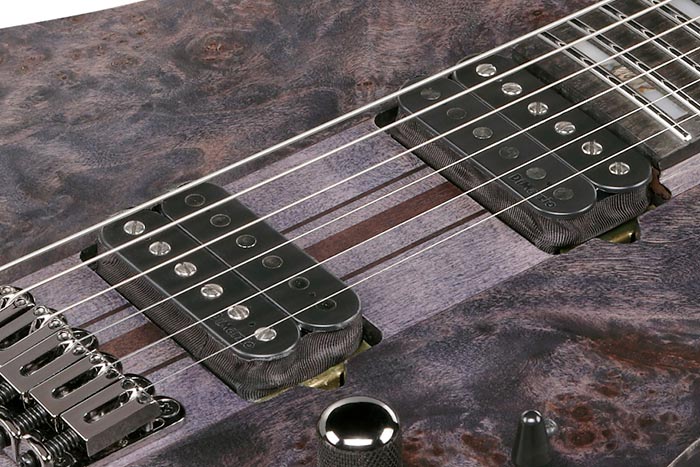 DiMarzio® Air Norton™ / The Tone Zone® pickups
A pair of high-output DiMarzio® Air Norton™ and The Tone Zone® pickups provides a huge sound with a broad dynamic range.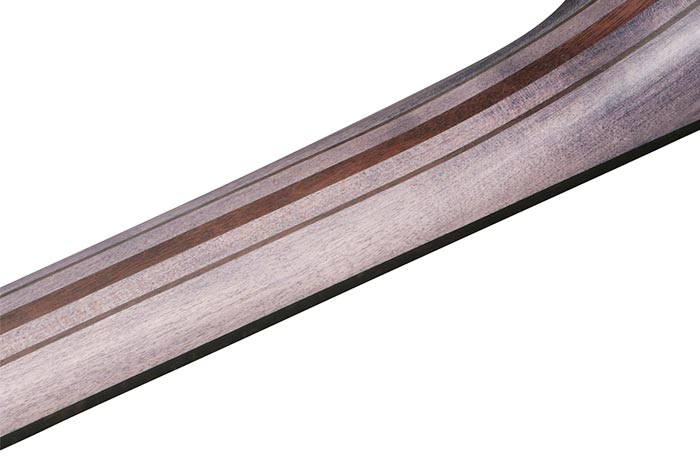 Wizard III 7pc Maple/Walnut neck
Ibanez's thin, flat and fast Wizard neck is strong and sturdy and offers unlimited playability and features a two-octave 24-fret fretboard for a wide tonal range.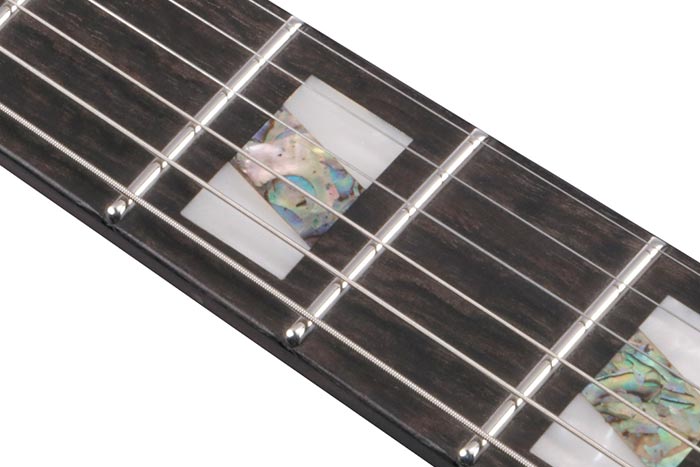 Jumbo Stainless Steel frets with Premium fret edge treatment
Stainless steel frets boast excellent corrosion resistance. The wide and tall fret-type offers a quick response and effortless articulation when playing chords and clear tone when playing single notes.
The Premium Fret Edge Treatment offers a super smooth, comfortable performance.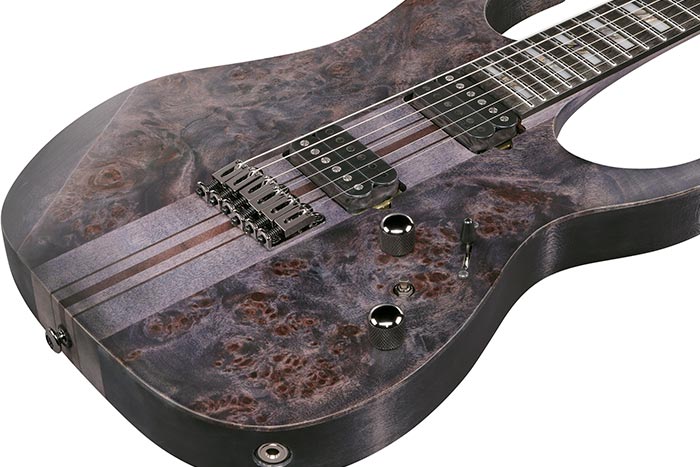 Poplar Burl top / American Basswood body
The Poplar Burl top features an exotic wood grain and the American Basswood body delivers a natural and flat tone.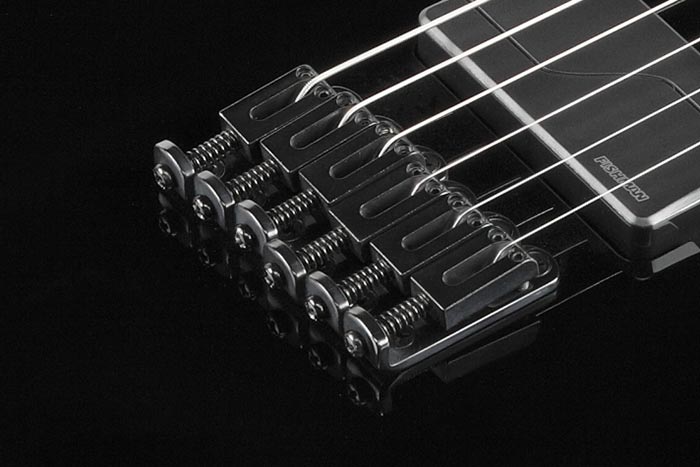 Mono-rail bridge
Designed for both stability and sustain, the innovative Ibanez Mono-Rail bridge minimizes cross-talk between strings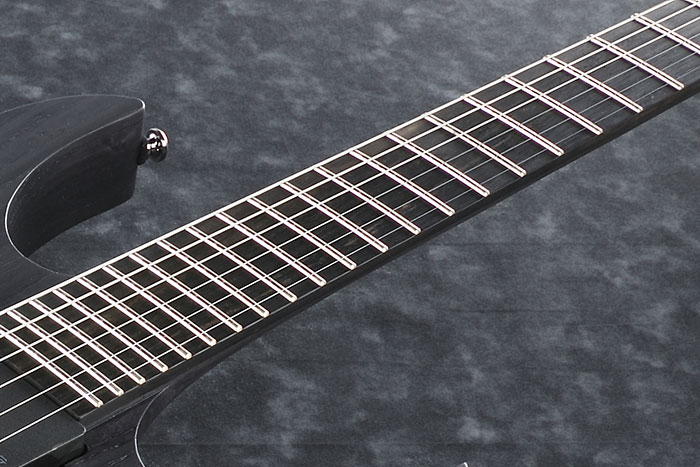 Ebony fretboard
Ebony produces tight lows and mid range with a strong attack in the high end and features a quick response and rich sustain.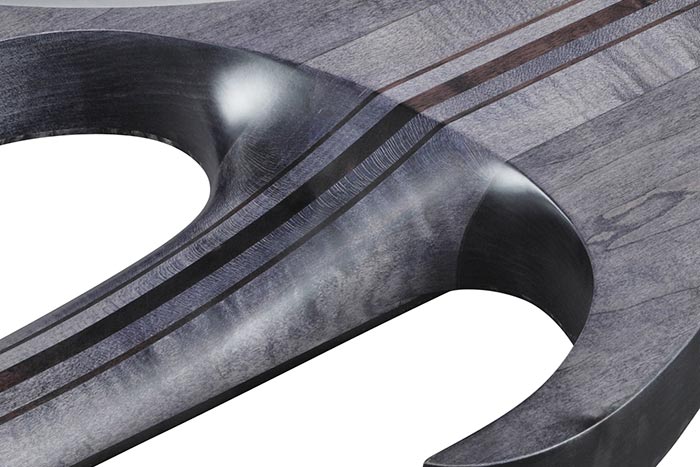 Neck-through Construction
Neck-through construction provides massive sustain and playing comfort.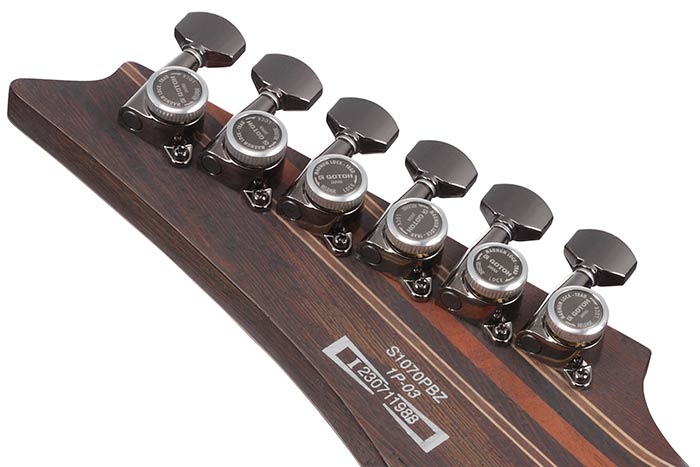 Gotoh® MG-T locking machine heads
The Gotoh® MG-T locking machine heads achieve incredible tuning stability, cutting down string-changing time.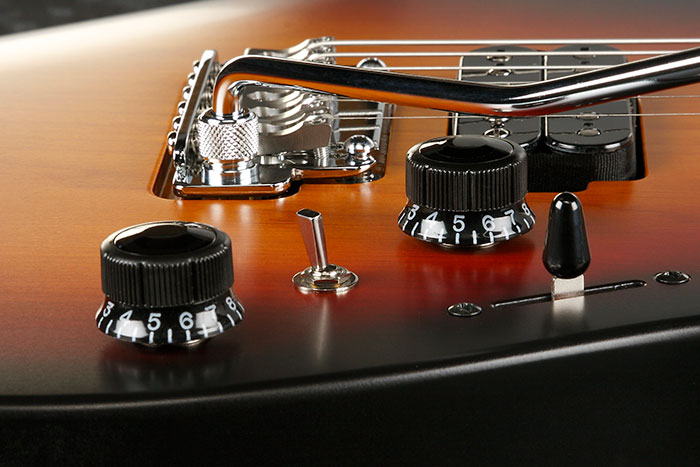 dyna-MIX10 switching system with Alter Switch
The dyna-MIX 10 offers ten sound variations and can easily switch from humbucker and single coil modes with the mini switch. The power Tap mode provides a realistic single coil sound despite its two humbucker pickup layout.
YOUR RECENTLY VIEWED PRODUCTS