SHARE:
AT
SPEC
SPECS

neck type

AT

Roasted Maple neck

fretboard

Roasted Maple fretboard

Black dot inlay

bridge

Wilkinson® WV6-SB bridge

neck pickup

DiMarzio® The Cruiser® (H) neck pickup

Passive/Ceramic

middle pickup

DiMarzio® The Cruiser® (H) middle pickup

Passive/Ceramic

bridge pickup

DiMarzio® AT-1™ (H) bridge pickup

Passive/Ceramic

factory tuning

1E,2B,3G,4D,5A,6E

strings

D'Addario® EXL110

string gauge

.010/.013/.017/.026/.036/.046

NECK DIMENSIONS

d : Thickness

23mm

at 12F

DESCRIPTION

Guitar Neck Diagram
a: Width of the neck at the nut
b: Width of the neck at the fret position specified by the neck dimension
c: Thickness of the neck at the first fret
d: Thickness of the neck at the fret position specified by the neck dimension
Radius: Radius of the fingerboard

SWITCHING SYSTEM

DESCRIPTION

When the coil tap switch is in neck position, the coil tap is engaged. When the coil tap switch is in bridge position, the coil tap is disengaged. Coil tap disengaged: When the pickup selector switch is in neck position, the neck pickup is selected. When the pickup selector switch is between neck and center position, the neck pickup and the center pickup are selected. When the pickup selector switch is in center position, the center pickup is selected. When the pickup selector switch is between center and bridge position, the center pickup and the bridge pickup are selected. When the pickup selector switch is in bridge position, the bridge pickup is selected. Coil tap engaged: When the pickup selector switch is in neck position, the neck pickup is selected. When the pickup selector switch is between neck and center position, the neck pickup and the center pickup are selected. When the pickup selector switch is in center position, the center pickup is selected. When the pickup selector switch is between center and bridge position, the center pickup and the neck side of bridge pickup are selected. When the pickup selector switch is in bridge position, the neck side of bridge pickup is selected.

CONTROLS

DESCRIPTION

With the guitar held in the playing position, there is a five-way pickup selector switch near the knee cutout on the lower part of the body. The volume knob is above the pickup switch. There is also a neck and middle tone knob, along with a coil tap switch toward the end of the body.

OTHER FEATURES

Gotoh® MG-T locking machine heads

Luminescent side dot inlay
Features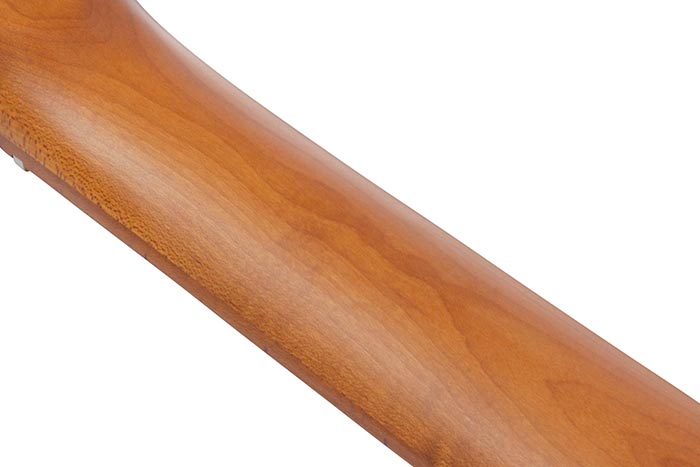 Roasted Maple neck
The Roasted Maple in the neck is heat-treated to increase stability, durability, moisture resistance and tolerance of temperature changes.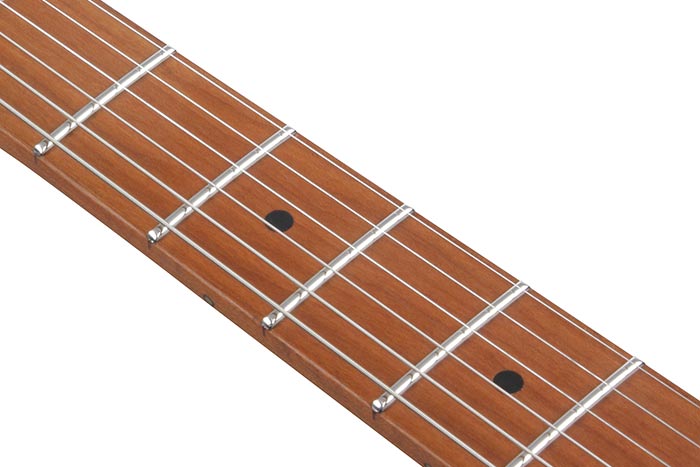 Roasted Maple fretboard
Heat-treatment provides a well-balanced attack and tone and a rich sustain. In order to achieve supreme neck grip comfort, the fretboard edge is finished with a smooth curve.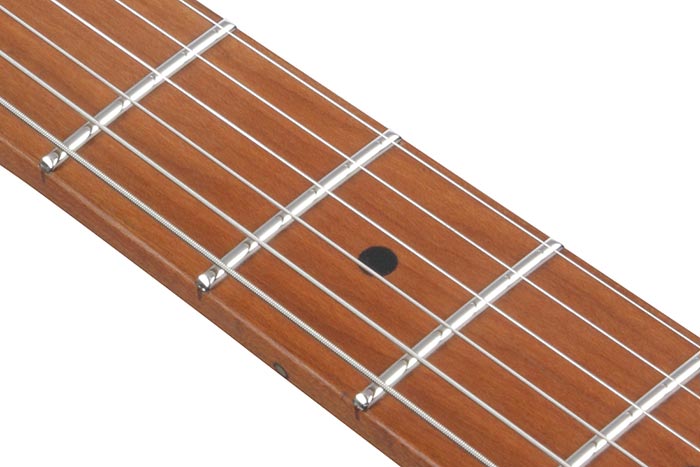 Jumbo frets
Jumbo frets contribute to smooth playability, especially for single-note playing.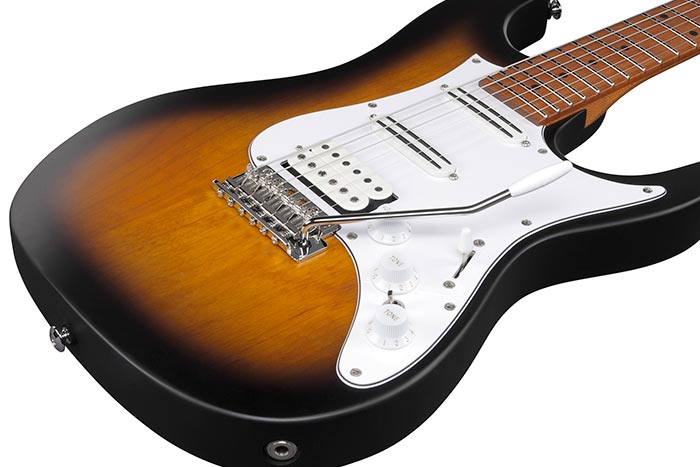 Alder body
The Alder body delivers a well-balanced bright tone, enriched resonance and sustain.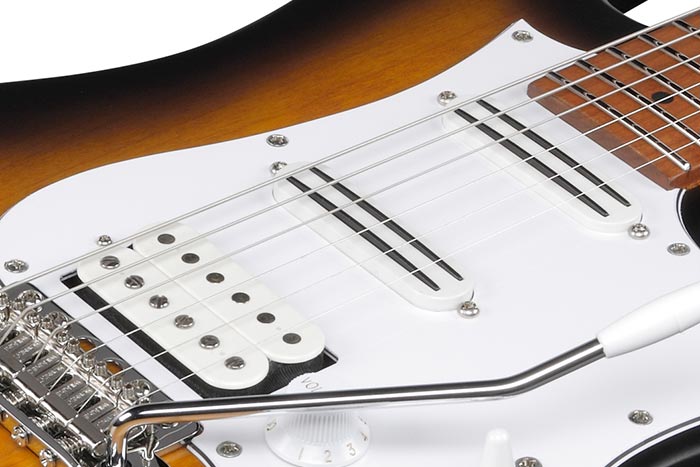 DiMarzio® The Cruiser® /AT-1™ pickups
A DiMarzio® The Cruiser® in the neck position delivers single-coil tone, open vocal-sounding mids and a bit of added strength to the bass. A DiMarzio®AT-1™ in the bridge position gives excellent warmth and clarity, which balances well with the neck pickup.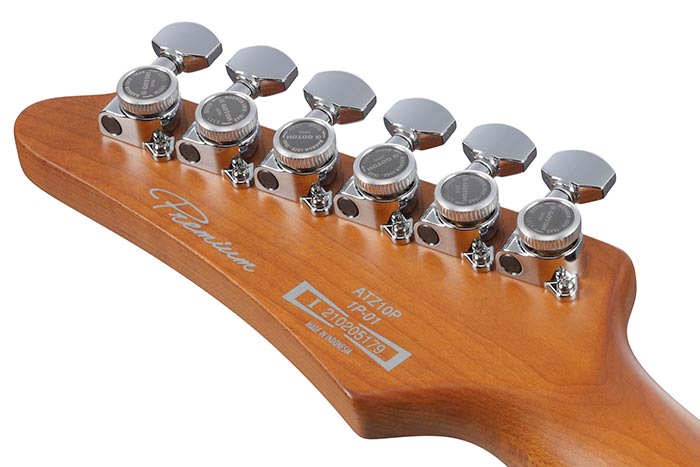 Gotoh® MG-T locking machine heads
The Gotoh® MG-T locking machine heads achieve incredible tuning stability, cutting down string-changing time.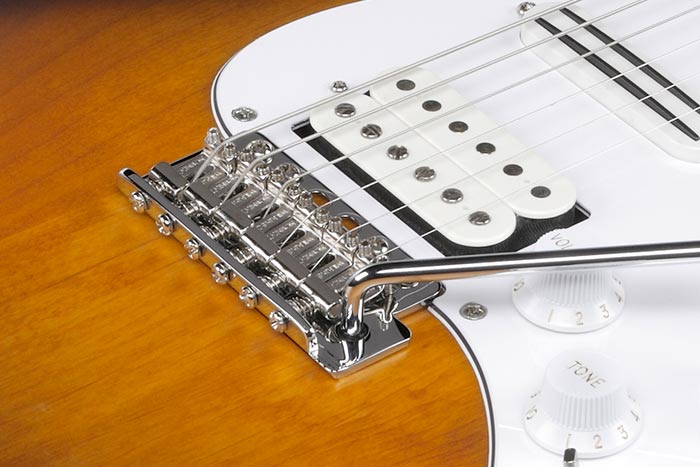 Wilkinson® WV6-SB tremolo
By utilising the unique Wilkinson "5+1" knife-edges, the Wilkinson® WV6-SB tremolo bridge offers unsurpassed "tone transfer" of a 6-screw pivot system with the smooth fulcrum action of a 2 pivot set-up.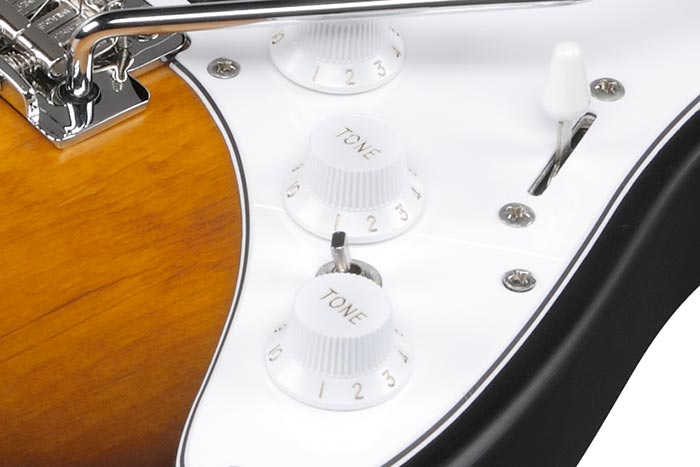 Coil-tap switch
The coil tap switch adds sound and tonal variations for both pickups.
YOUR RECENTLY VIEWED PRODUCTS