 MFT

:

Metallic Forest

PW

:

Pearl White
SHARE:
SR MEZZO
SPEC
SPECS

neck type

top/back/body

fretboard

Jatoba fretboard

White dot inlay

fret

number of frets

bridge

string space

neck pickup

Dynamix P neck pickup

Passive

bridge pickup

Dynamix J bridge pickup

Passive

equaliser

Ibanez Custom Electronics 2-band EQ

factory tuning

strings

string gauge

hardware color

NECK DIMENSIONS

Scale :

a : Width

b : Width

c : Thickness

d : Thickness

Radius :

DESCRIPTION

Guitar Neck Diagram
a: Width of the neck at the nut
b: Width of the neck at the first fret
c: Thickness of the neck at the first fret
d: Thickness of the neck at the twelfth fret
Radius: Radius of the fingerboard

CONTROLS

DESCRIPTION

With the bass held in the playing position, there are two small knobs located along the lower edge of the body. The knob close to the end of the body is the treble boost/cut knob, and the one closer to the neck is the bass boost/cut. Above these, there are two more knobs closer to the bridge. The one closest to end of the body is the pickup balancer, and the other is the volume knob. You can adjust piezo gain for each strings with the trim pots located on the back panel. Turn the trim pot clockwise with a Philips head screwdriver to boost the gain, and turn the trim pot counter clockwise to cut the gain. The trim pots are lined up in order of the strings.

FREQUENCY RESPONSE

DESCRIPTION

The bass boost/cut frequency curve has a peak at 20 Hz and a variable width that decreases toward the high range, and a curve that the variable width becomes zero at approximately 1000 Hz. The variable range becomes slightly larger in the high range than around 1000 Hz, but it becomes zero again near 5000 Hz. The variable range of the peak frequency is approximately ±15 dB. The treble boost/cut frequency curve creates a bell-shaped curve with a peak around 10000 Hz and zero variable range around 100 Hz. The variable range of the peak frequency is approximately ±15 dB.

OTHER FEATURES
Features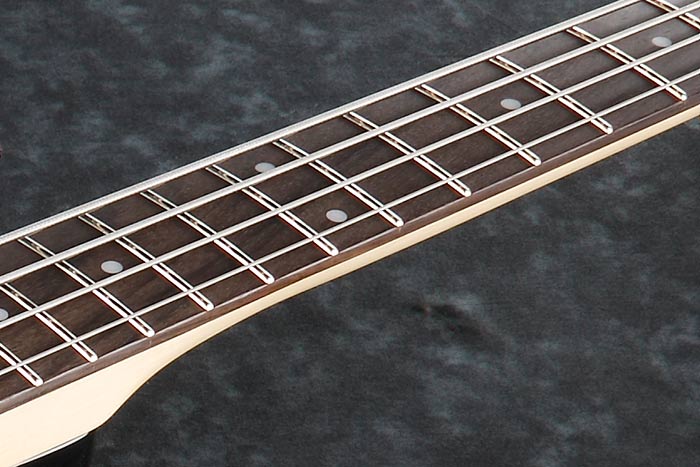 Jatoba Fretboard
Jatoba has a reddish brown color which produces a rich mid range with a crisp high end.
B10 Bridge
The B10 bridge allows fully adjustable intonation and solid tuning stability.
Dynamix pickups
Electronics consist of an Ibanez Custom Electronics 2-band EQ and an Ibanez DXP neck pickup and DXJ bridge pickup for extra punch.
32" Scale Neck
The SR Mezzo's 32" scale neck is 2" shorter than that of the general Ibanez SR models, but the Mezzo stills delivers a powerful low end.
YOUR RECENTLY VIEWED PRODUCTS