SRC6 SHARE:
SR
SPEC
SPEC

neck type

SRC6

5pc Jatoba/Walnut neck

top/back/body

Okoume body

fretboard

Jatoba fretboard

Abalone oval inlay

neck pickup

EMG® 35HZ neck pickup

Passive

bridge pickup

EMG® 35HZ bridge pickup

Passive

equaliser

Ibanez Custom Electronics 3-band EQ

factory tuning

1E,2B,3G,4D,5A,6E

strings

D'Addario® EXL156

string gauge

.024 /.034/.044/.056/.072/.084

hardware color

Cosmo black

NECK DIMENSIONS

c : Thickness

19.5mm

at 1F

d : Thickness

21.5mm

at 12F

CONTROLS

OTHERS
Features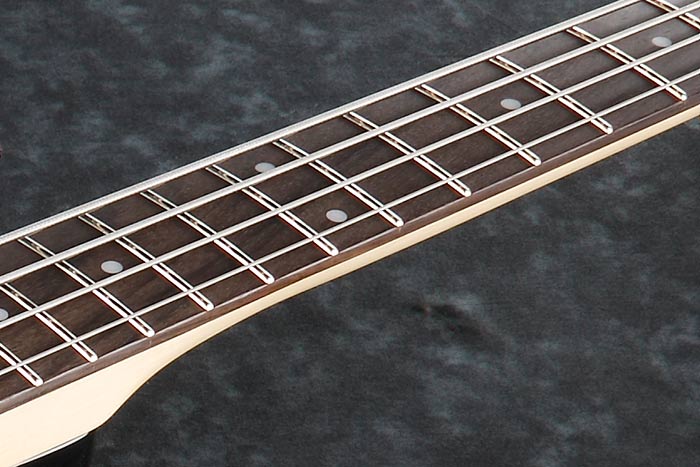 Jatoba Fretboard
Jatoba has a reddish brown color which produces a rich mid range with a crisp high end.
Tuning
The SR Crossover is tuned like a guitar, E to E, only an octave lower, like a bass. This opens up a myriad of creative options for the daring to explore.
Ibanez Custom Electronics 3-band EQ
Ibanez Custom Electronics 3-band EQ is our latest refinement on the concept of simple, straightforward, no-nonsense EQ control. The Boost and Cut for the Mid Control are each centered on slightly different frequencies, an innovation that delivers a preset range of the most favorable bass tones.
EMG® 35HZ Pickups
The 35HZ Passive Pickup features a dual-coil design for low noise and plenty of output. Using EMG's "CS" design (Ceramic and Steel), this pickup has the punch and fullness of older passive designs along with added brightness for a better-defined tone. EMGHZ features solid bar poles that cover the entire width of the strings so it works great on the 6-string bass.
Tight End bridge
Hybrid instrument that it is, the SR Crossover straddles the line between bass and guitar. Originally designed for guitars, this smooth, low profile bridge allows for tighter string alignment and a thinner fretboard. It features saddles that firmly lock on the base plate (to maximize string vibration transmitted to the body) and simple saddle height and intonation adjustments for easy setups.
SRC6 5pc Jatoba/Walnut neck
The tension on a 6-string bass neck is considerable. With this in mind Ibanez has given the SR Crossover a 5-piece Jatoba/Walnut bolt-on neck for superior tone and excellent stability. Jatoba is a hardwood, known for its rigid strength and Bubinga is known for it's mellow, round tone. Together they create a the perfect neck for this unique instrument.
30" Neck Scale
Basses with a scale of 34" are known as "long-scale". Following in the tradition of the 6-string bass of the 60's, the SR Crossover features a 30" scale Bolt-on neck, for what is commonly known as a "short scale" bass. This is highly desirable for guitarists who sometimes double as bass players. (The shorter scale having a feel closer to that of an electric guitar.)
YOUR RECENTLY VIEWED PRODUCTS