 NSL

:

Natural Satin Top, Natural Low Gloss Back and Sides
SHARE:
PA
SPEC
SPECS

body shape

bracing

top

back & sides

Okoume back

&

Okoume sides

neck

PA

African Mahogany/Pau Ferro 5pc neck

fretboard

bridge

Macassar Ebony top loading bridge

top board purfling

soundhole rosette

Specially Designed Wooden rosette

tuning machine

Chrome Die-cast tuners (18:1 gear ratio)

nut material

Unbleached Oil-impregnated Bone

number of frets

saddle material

Unbleached Oil-impregnated Bone saddle

strings

string gauge

.013/.017/.026/.035/.045/.056

string space

factory tuning

pickup

Ibanez AP11 Magnetic & Contact

preamp

Ibanez Custom Electronics w/ Magnetic Pickup Volume and Contact Pickup Volume

output jack

Dual Outputs (Mono Out / Stereo Out)

NECK DIMENSIONS

Scale :

a : Width

b : Width

c : Thickness

d : Thickness

Radius :

DESCRIPTION

Guitar Neck Diagram
a: Width of the neck at the nut
b: Width of the neck at the first fret
c: Thickness of the neck at the first fret
d: Thickness of the neck at the twelfth fret
Radius: Radius of the fingerboard

BODY DIMENSIONS

a : Length

b : Width

c : Max Depth

DESCRIPTION

Guitar Body Diagram
A: Length of the body
B: Maximum width of the body
C: Maximum depth of the body

PREAMP

DESCRIPTION

There knob closest to the player is the volume for the magnetic pickup. The knob futhest away from the player is the volume knob for the contact pickup.

OTHER FEATURES
Features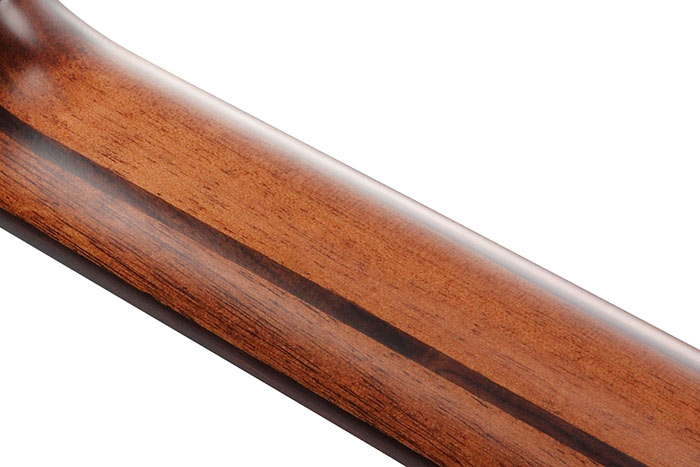 5pc African Mahogany/Pau Ferro neck
The African Mahogany and Pau Ferro 5pc neck has enhanced durability.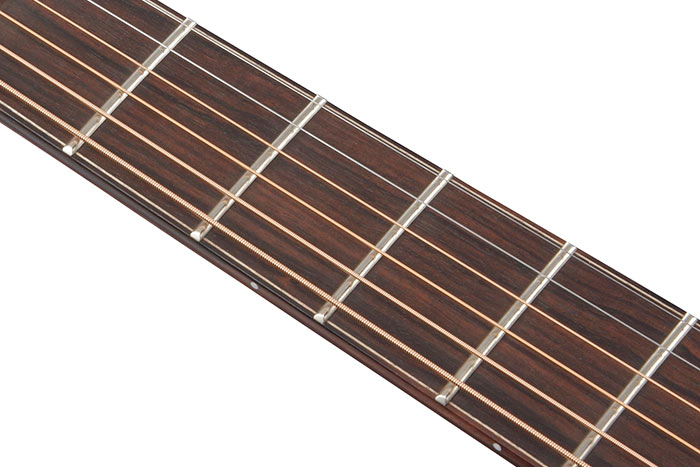 Macassar Ebony fretboard
Macassar Ebony produces tight lows and mid range along with strong attack in the highs and quick response with rich sustain.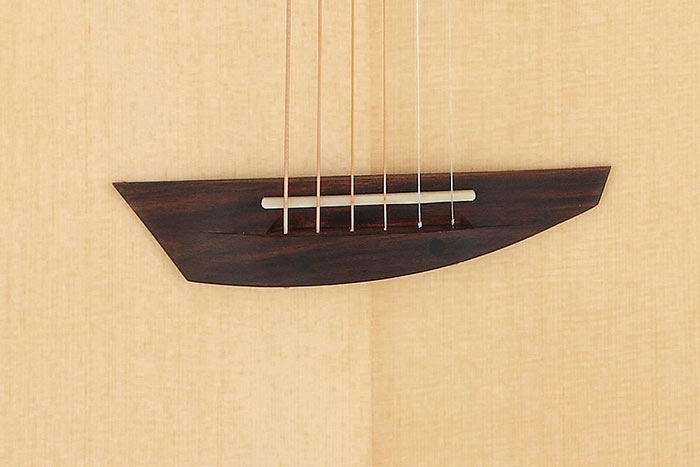 Macassar Ebony top loading bridge
For a better percussive sound, the Macassar Ebony bridge features a top loading system without a bridgepin. It also offers a fast and easy method for string changes.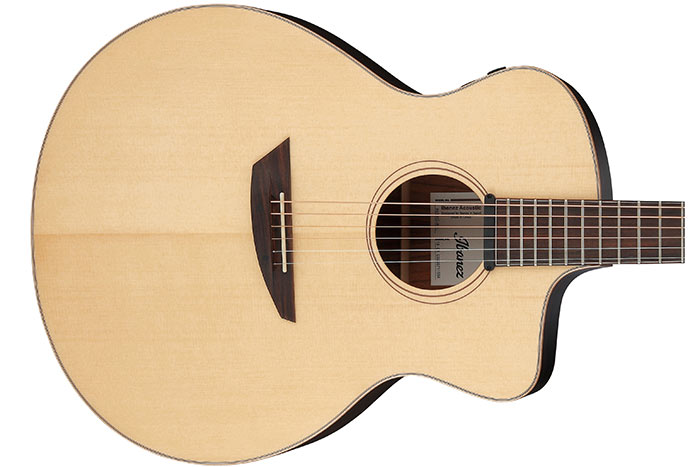 Asymmetric jumbo body
Developed for modern fingerstyle players, the asymmetric jumbo body features a low-end focused sound and tapping friendly shape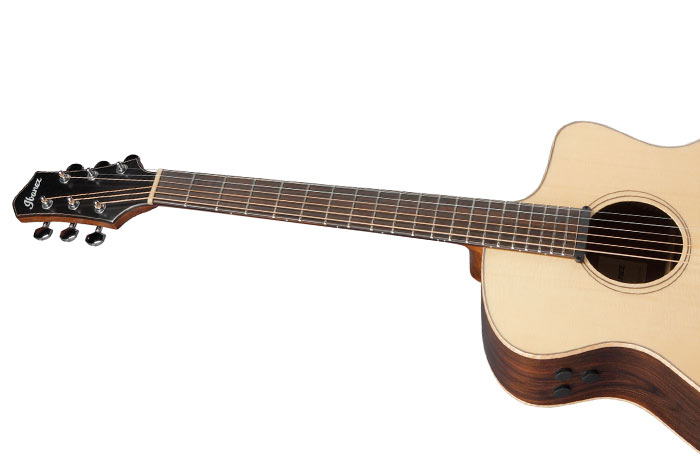 25 3/4 inch scale
A 25 3/4 inch scale helps to maintain proper tension and pitch even while down tuning, a technique modern finger players often utilize. This scale-length also delivers improved sustain.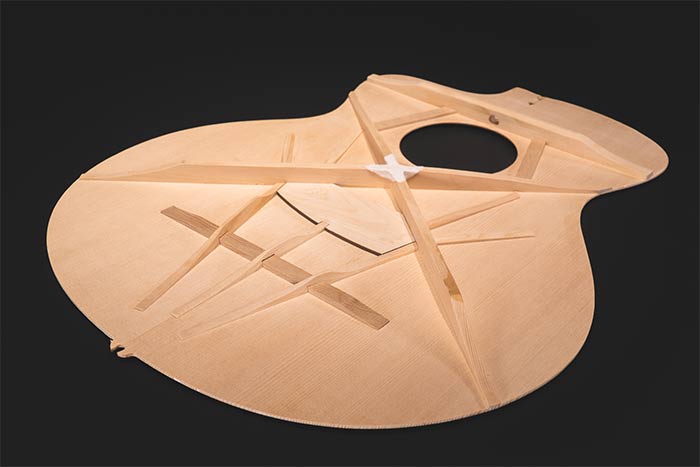 Modified X-M Bracing
With several years spent on research and development, Ibanez ultimately developed the exciting, new X-M bracing design. The carefully designed scalloped X-bracing, features strategically positioned tone and finger braces, which transmit string vibration more efficiently through the bridge to the body, greatly enhancing the quality and projection of the sound. This modified X-M Bracing design creates a highly responsive sound with a wide dynamic range, but it also emphasizes a focused low-end, which perfectly complements modern fingerstyle playing.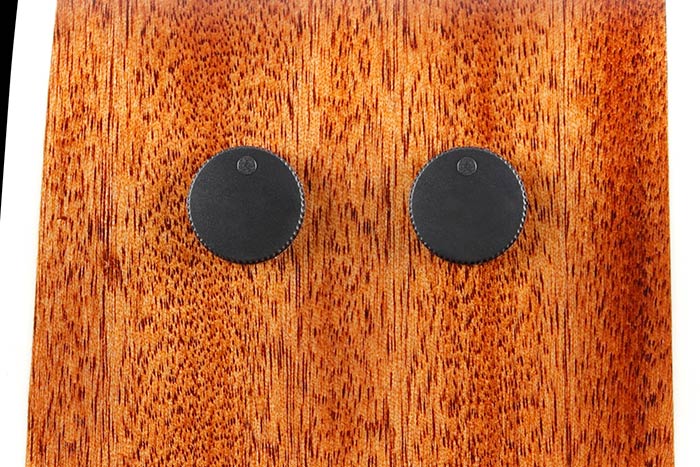 Ibanez Custom Electronics w/ Magnetic Pickup Volume and Contact Pickup Volume
Blending the Contact pickup with the Magnetic pickup provides more natural acoustic tone. This pickup combination enhances the depth of the sound and the tonal brightness. It especially excels for solo fingerstyle players or in a small acoustic ensemble.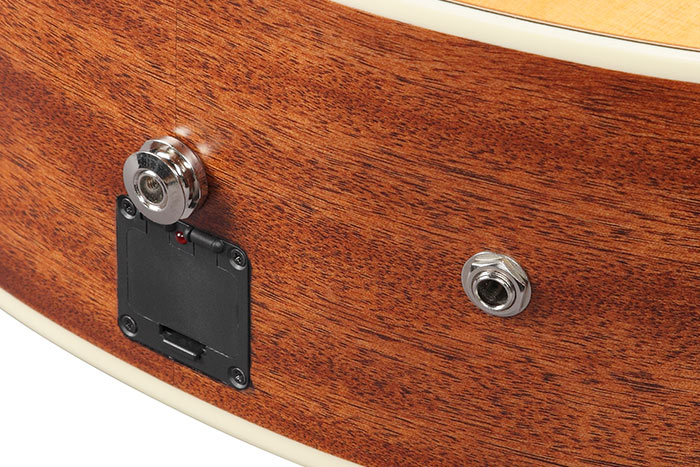 Dual Outputs (Magnetic/Contact pickup outputs)
Plugged into the endpin jack only: Magnetic pickup + Contact pickup with mixed output
Plugged into both the endpin jack and the open jack: Endpin Jack = Magnetic pickup, Open Jack = Contact Pickup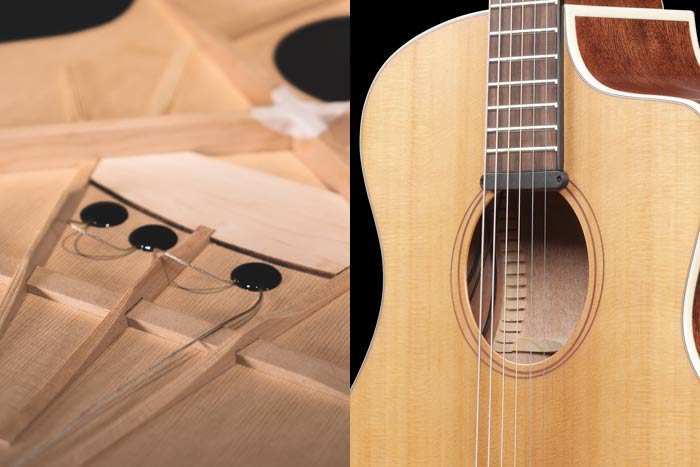 Ibanez AP11 Magnetic / Contact pickups
The AP11 pickup is small, lightweight and positioned so it won't inhibit the natural vibrations of the top wood. The pickup generates a highly responsive sound with minimal feedback throughout the entire frequency range. The sound is transparent and reflects the guitar's natural acoustic tone while preserving presence and mid-range. The AP11 also works well with effects such as reverb, chorus and many others. The Contact pickup consists of three transducers facilitating organic individual note clarity and naturally reproduces percussive body tapping techniques. This pickup also adds an airy depth of tone and brightness to the amplified sound.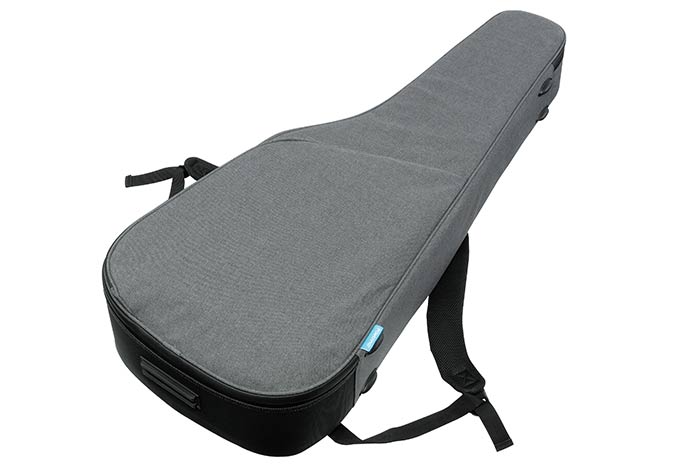 Gig bag included
Ibanez Gig bags are made out of durable materials.
YOUR RECENTLY VIEWED PRODUCTS