SHARE:

SR
SPEC
SPECS

neck type

Atlas-5 HP

5pc Maple/Purpleheart neck

top/back/body

Maple Burl top

Honduras Mahogany body

fretboard

Ebony fretboard

Mother of Pearl & Abalone oval inlay

fret

number of frets

bridge

string space

neck pickup

Nordstrand™ Big Single wood covered neck pickup

Passive

bridge pickup

Nordstrand™ Big Single wood covered bridge pickup

Passive

equaliser

Ibanez Custom Electronics 3-band EQ w/ EQ bypass switch (passive tone control on treble pot) & 3-way Mid frequency switch

factory tuning

strings

string gauge

nut

Graph Tech® BLACK TUSQ XL® nut

hardware color

NECK DIMENSIONS

Scale :

a : Width

b : Width

c : Thickness

d : Thickness

Radius :

DESCRIPTION

Guitar Neck Diagram
a: Width of the neck at the nut
b: Width of the neck at the fret position specified by the neck dimension
c: Thickness of the neck at the first fret
d: Thickness of the neck at the fret position specified by the neck dimension
Radius: Radius of the fingerboard

CONTROLS

DESCRIPTION

With the bass held in the playing position, there are three small knobs located towards the lower edge of the body. Directionally, from the lower bout towards the neck these knobs control treble boost/cut, mid boost/cut, and bass boost/cut knob. Above these are two larger knobs closer to the bridge. Of these, the knob closest to the end of the body is the pickup balance, and the knob located towards the neck is the volume knob. There are two switches on this bass. The switch closest to the lower edge of the body is a 3-way mid frequency switch. When the switch is in neck position, mid boost peak is at 250Hz. When the switch is in center position, mid boost peak is at 450Hz. When the switch is in bridge position, mid boost peak is at 800Hz. The other switch closer to the middle of the bass is the EQ bypass switch. When the switch is in neck position, the EQ is off. When the switch is in bridge position, EQ is on. When EQ is off, the treble knob works as a passive tone control knob.

FREQUENCY RESPONSE

DESCRIPTION

The bass boost/cut frequency curve has a peak at 20 Hz, the variable width becomes smaller toward the high range, and the variable width becomes zero at about 1000 Hz. The variable range of the peak frequency is approximately ±15 dB. The treble boost/cut frequency curve draws a mountain-shaped curve with a peak at around 10,000 Hz and zero variable range around 100 Hz. The variable range of the peak frequency is approximately ±15 dB. The mid-boost/cut frequency curve creates a bell-shaped curve that peaks at a specific frequency, and the variable range becomes zero near 20 Hz and around 10,000 Hz. The frequency peak can be switched to 700, 450 and 250 Hz. The variable range of the peak frequency is approximately ±15 dB.

OTHER FEATURES
Features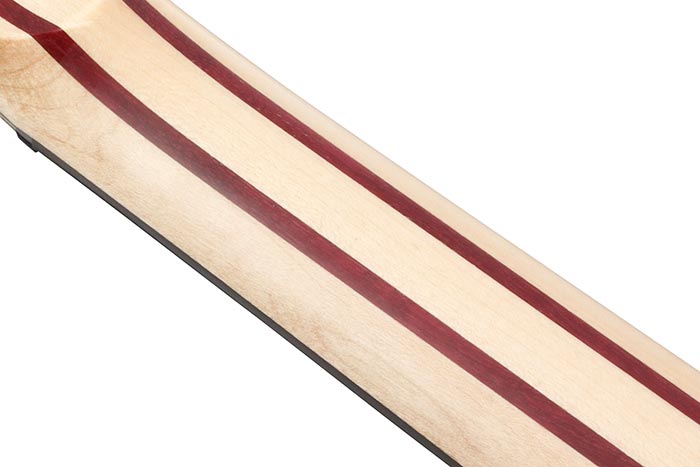 Atlas HP 5pc Maple/Purpleheart neck
The Atlas HP 5pc Maple/Purpleheart neck provides tonal clarity and superior attack.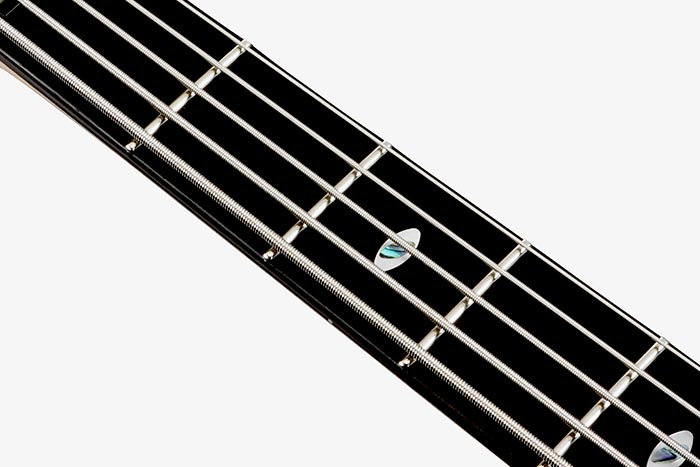 Ebony fretboard
Ebony produces tight lows and mid range with a strong attack in the high end and features a quick response and rich sustain.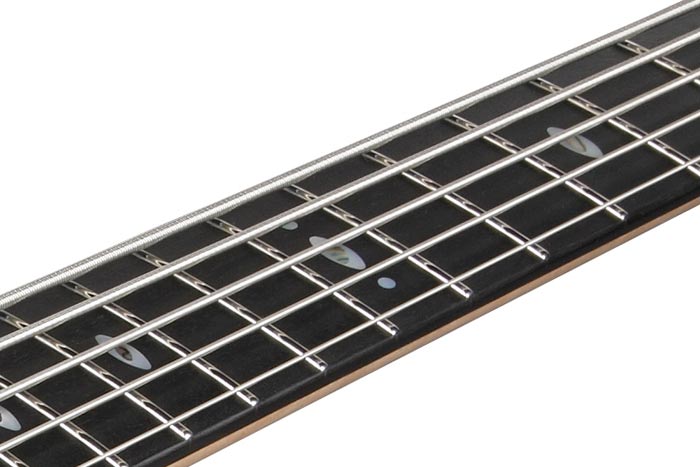 Medium frets
Medium sized frets enhance the accuracy of your notes.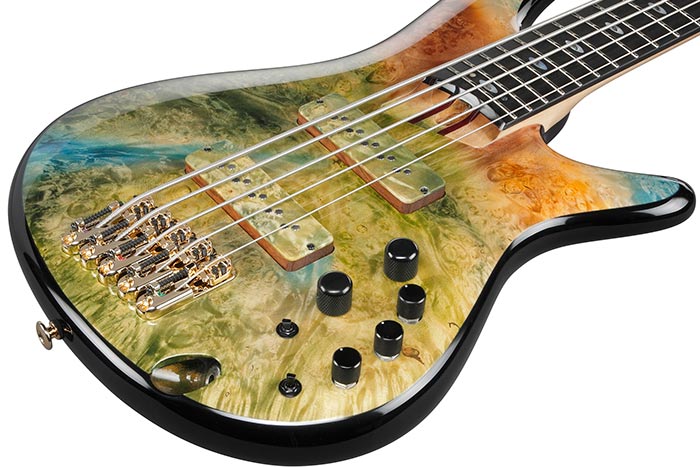 Maple Burl top / Honduras Mahogany body
The Maple top sonically enriches the response while picking. The Mahogany body delivers a rich mid-low end.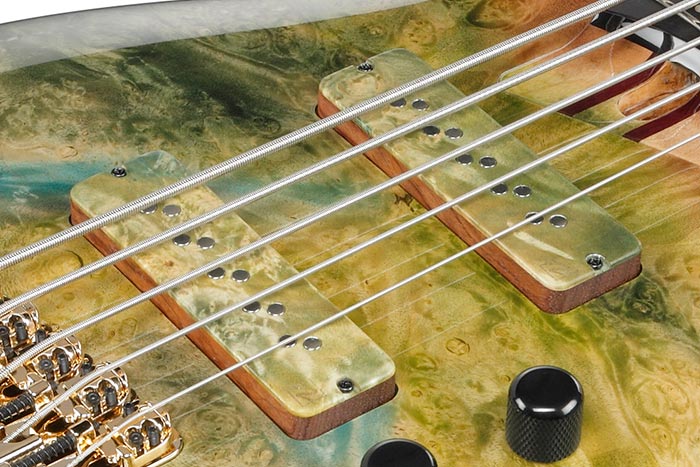 Nordstrand™ Big Single pickups with wood cover
Nordstrand™ "Big Single" cram a meaty a single coil into a soapbar-style pickup, producing a full-bodied, powerful, aggressive tonal texture, while still retaining the clarity that's characteristic of single coil pickups. The pickups' beautiful Birdseye Maple wood cover imbues this bass guitar with an exotic appearance.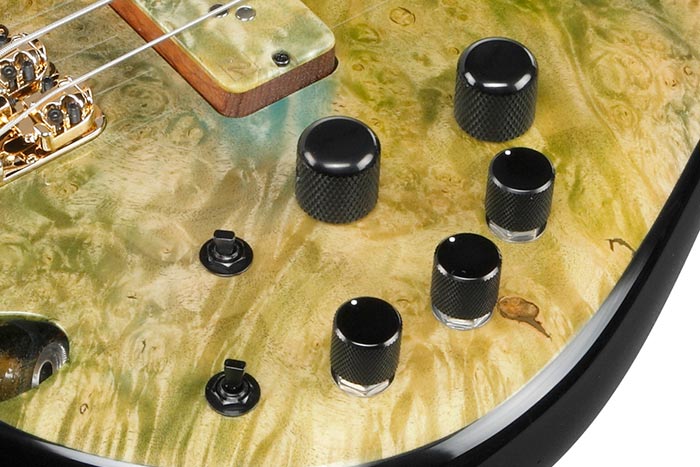 Ibanez Custom Electronics 3-band EQ w/EQ bypass switch & 3-way Mid frequency switch
The Ibanez Custom Electronics 3-band EQ is our latest refinement on the concept of simple, straightforward, no-nonsense EQ control. The Boost and Cut for the Mid Control are each centered on slightly different frequencies, an innovation that delivers a preset range of the most favorable bass tones.
The EQ bypass control offers precision tonal adjustments, including a switch to choose passive-only operation. When the EQ bypass is activated, the treble tone control knob becomes the global tone control for the passive circuit.
The 3-way Mid frequency switch allow players to change the mid-tone between 250, 450, and 700 Hz.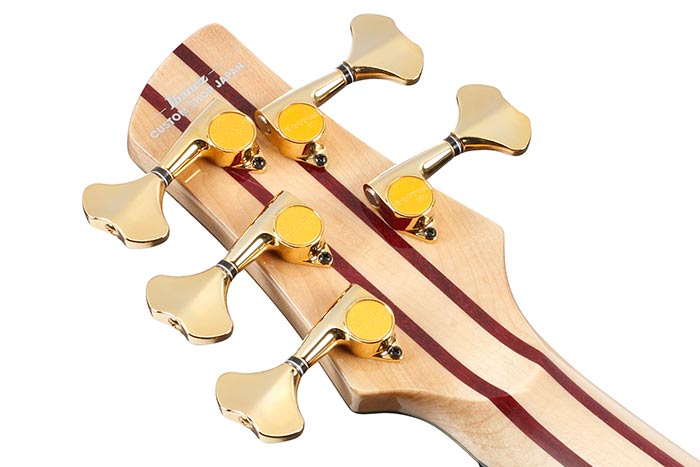 Gotoh® machine heads
Gotoh® machine heads provide superior precision, a smooth feel, and excellent tuning accuracy.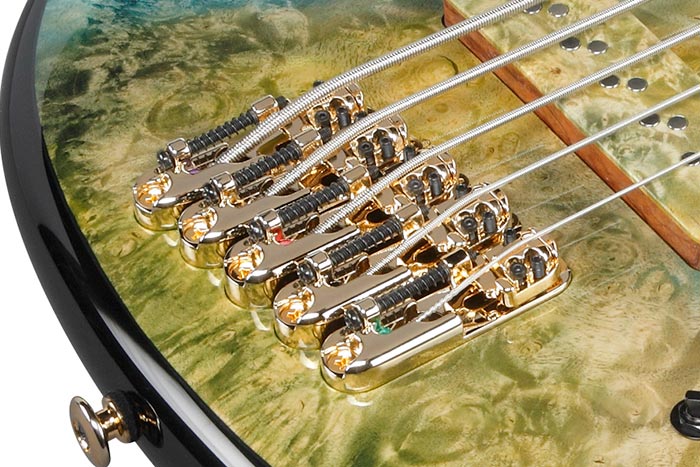 MR5S bridge
The MR5S bridge has adjustable saddles for variable string spacing by +/1.5mm, answering every bassist's specific string spacing needs.
YOUR RECENTLY VIEWED PRODUCTS