 BS

:

Brown Sunburst

NT

:

Natural
SHARE:

GB
SPEC
SPECS

neck type

top/back/side

Spruce top

Maple back

Maple sides

fretboard

Bound Ebony

Acrylic & Abalone block inlay

fret

Medium frets

Prestige fret edge treatment

number of frets

bridge

string space

tailpiece

neck pickup

GB special (H) neck pickup

Passive/Alnico

bridge pickup

GB special (H) bridge pickup

Passive/Alnico

factory tuning

string gauge

.011/.015/.022w/.030/.040/.050

nut

hardware color

NECK DIMENSIONS

Scale :

a : Width

b : Width

c : Thickness

d : Thickness

Radius :

DESCRIPTION

Guitar Neck Diagram
a: Width of the neck at the nut
b: Width of the neck at the first fret
c: Thickness of the neck at the first fret
d: Thickness of the neck at the twelfth fret
Radius: Radius of the fingerboard

BODY DIMENSIONS

a : Length

b : Width

c : Max Depth

DESCRIPTION

Guitar Body Diagram
A: Length of the body
B: Maximum width of the body
C: Maximum depth of the body

SWITCHING SYSTEM

DESCRIPTION

When the pickup selector switch is in the neck position, the neck pickup is active. When the switch is in the center position, both the neck and bridge pickups are selected. When the switch is in the bridge position, the bridge pickup is selected.

CONTROLS

DESCRIPTION

There are two knobs located along the lower edge of the body. The knob closest to the end of the body is the bridge tone knob, and the knob closest to the sound hole is the bridge volume knob. Above these, there are two more knobs closer to the bridge. The knob closest to the end of the body is the neck tone knob, and the knob closest to the sound hole is the neck volume knob. The pickup selector is located above the neck pickup.

OTHER FEATURES
Features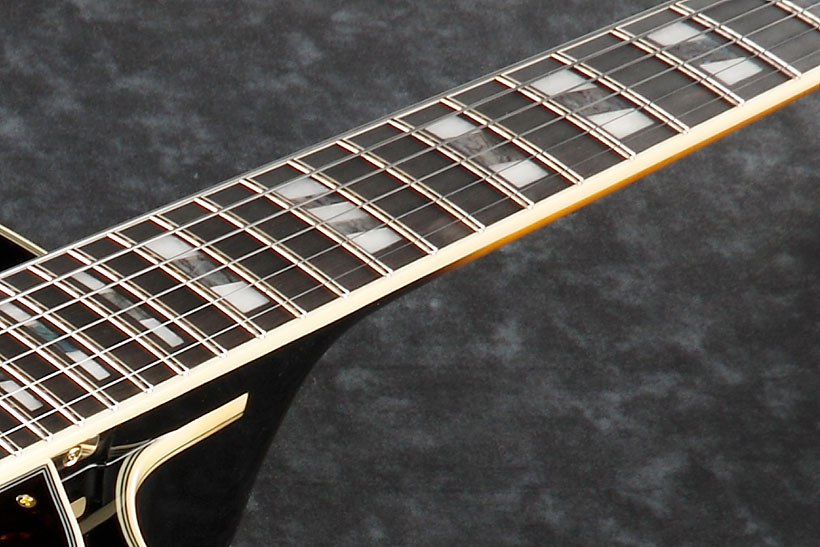 Ebony fretboard
Ebony produces a tight low end and mid-range with a defined high end attack. It also delivers quick response and rich sustain.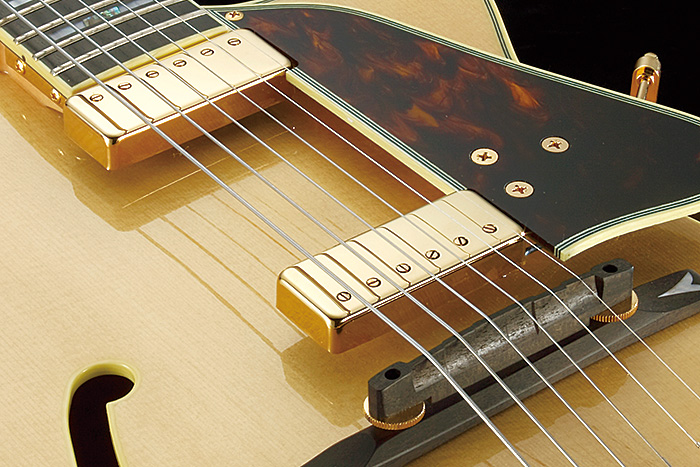 GB Special Pickups
GB special pickups are installed and float off the body, eliminating feedback and enabling a superbly warm jazz sound.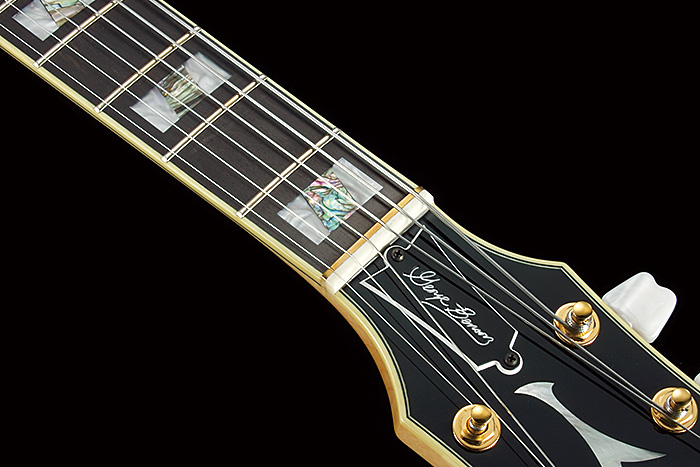 Half-Bone/Half Brass Nut
The splendid George Benson Signature GB10 features a specially-designed half bone/half brass nut.
YOUR RECENTLY VIEWED PRODUCTS