SRF705 SR
SPEC
SPECS

neck type

SRF5

5pc Maple/Walnut

Neck-through

top/back/body

Okoume wing body

fretboard

Bound Panga Panga fretboard

bridge

Custom bridge for AeroSilk Piezo system bridge

neck pickup

Bartolini® MK-1 neck pickup

Passive

bridge pickup

Bartolini® MK-1 bridge pickup

Passive

equaliser

Ibanez 2-band EQ w/Piezo active tone control

factory tuning

1G,2D,3A,4E,5B

strings

D'Addario® ECB81-5 Flatwound

string gauge

.045/.065/.080/.100/.132

hardware color

Cosmo black

NECK DIMENSIONS

c : Thickness

21.5mm

at 1F

d : Thickness

23.5mm

at 12F

DESCRIPTION

Guitar Neck Diagram
a: Width of the neck at the nut
b: Width of the neck at the fret position specified by the neck dimension
c: Thickness of the neck at the first fret
d: Thickness of the neck at the fret position specified by the neck dimension
Radius: Radius of the fingerboard

CONTROLS

DESCRIPTION

There are six knobs total on this bass. With the bass held in the playing position, there are three knobs located towards the lower edge of the body. Directionally, from the lower bout towards the neck, these knobs control the piezo active tone, magnetic pickup treble boost/cut, and magnetic pickup bass boost/cut. Above these controls are three additional knobs located closer to the bridge. Directionally, from the lower bout towards the neck, these knobs control the piezo volume, bridge pickup volume, and neck pickup volume. You can also adjust the gain for each string with the trim pots located on the back panel. Turn the trim pot clockwise with a Philips head to boost gain, or turn the trim pot counter clockwise to cut gain. The trim pots are arranged in order with the strings.

OTHER FEATURES
Features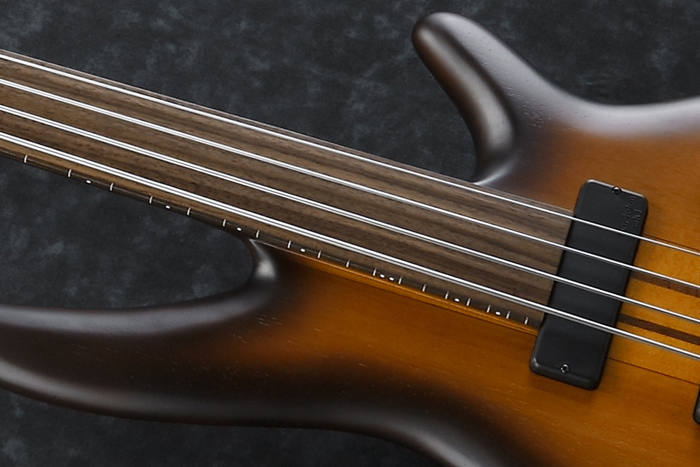 30 Fret Neck
The SR Portamento features an extended 30-fret Rosewood fretboard for playing upper register notes usually only accessible on an upright.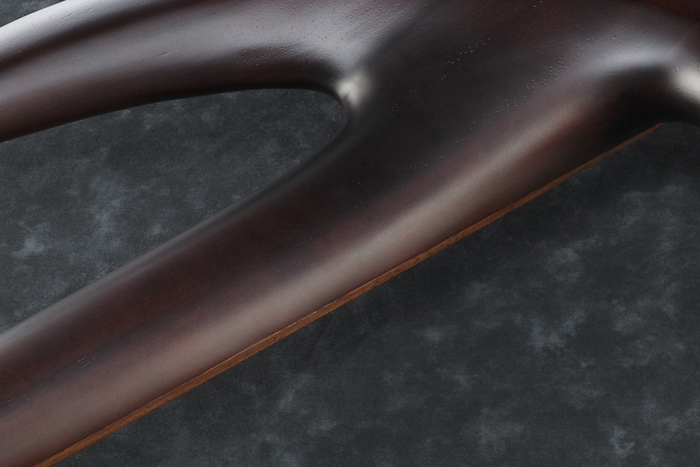 5pc SR Maple/Walnut Through-Neck
The SR Portamento features 5-piece Maple/ Walnut through-neck for increased sustain and superior tone.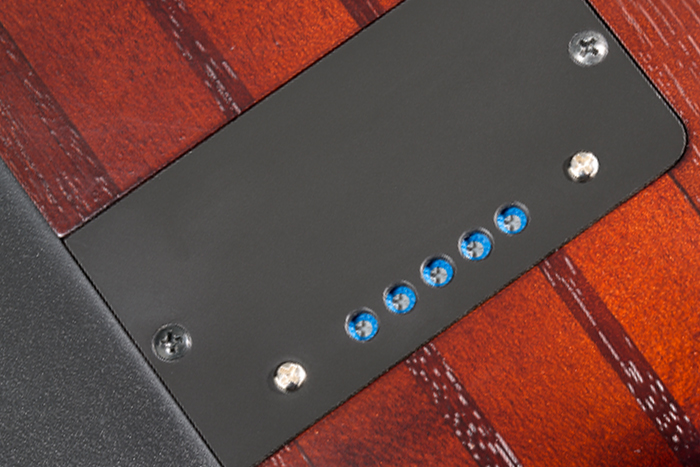 Piezo Level Control
On the back of the SR Portamento are recessed controls assigned to each individual string to control the volume of the Ibanez-exclusive AeroSilk Piezo pickup. Perfect string balance and response can be achieved by adjusting the volume to accommodate different string gauges.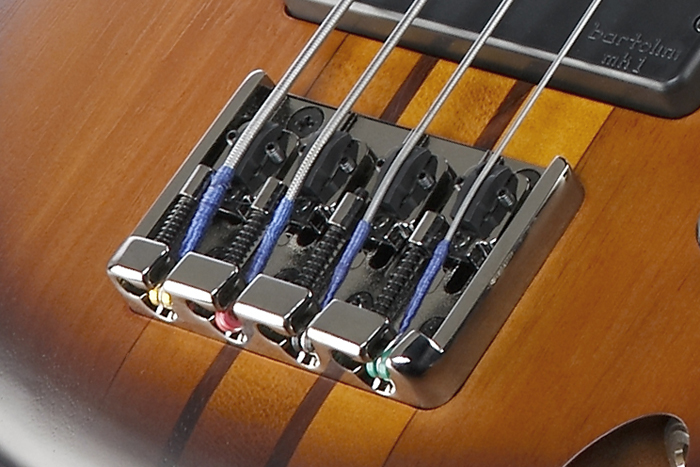 Custom bridge for AeroSilk Piezo System
The Custom bridge is created specifically for the optimum performance of the AeroSilk Piezo pickup system. Unique plastic saddles were designed to work in concert with the piezo pickups and enhance the acoustic "Upright" quality of the sound.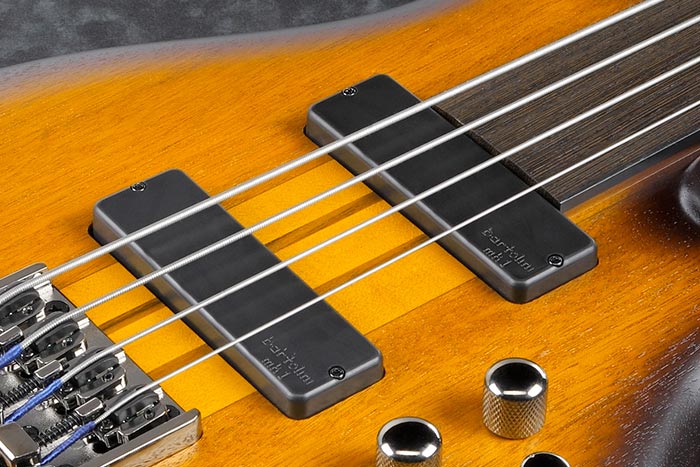 Bartolini® MK1 Pickups
The MK1 pickups are split coil designs that provides a very wide frequency range and enhanced definition for maximum accuracy. The Neck and Bridge pickups have equal response, like traditional single coils, but without the hum and noise.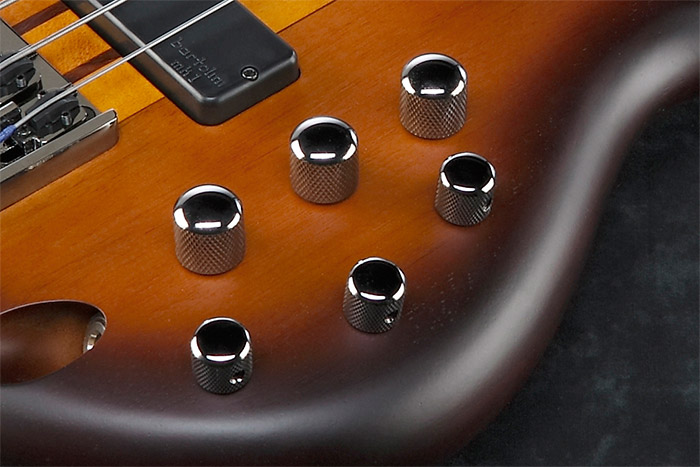 AeroSilk Piezo system w/Active tone control
The EQ section incorporates the controls of the Bartolini pickups with the AeroSilk Piezo system. Controls include a Master volume, balance and bass & treble controls for the Bartolini MK-1 pickups and a Master volume and a tone control for the Piezo system.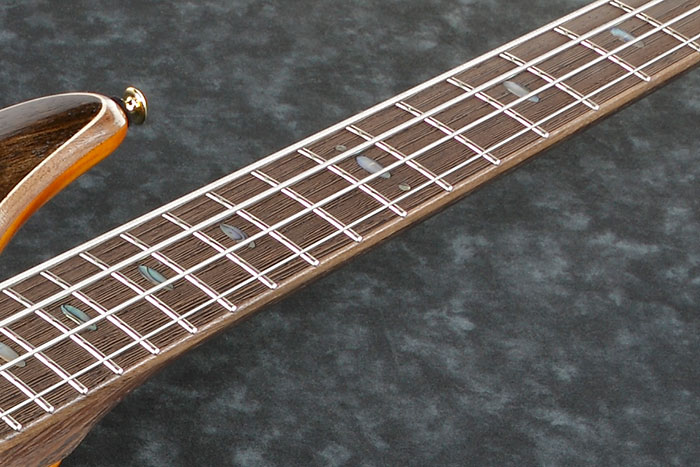 Panga Panga fretboard
Panga Panga features a beautiful wood grain which produces a tight low and mid range, along with a sharp attack on high end.
YOUR RECENTLY VIEWED PRODUCTS