SRAS7 CBS

:

Cosmic Blue Starburst
SR
SPEC
SPECS

neck type

SRAS7

7pc Maple/Walnut/Bubinga neck

top/back/body

Poplar Burl/Ash top

Okoume body

fretboard

Indian Rosewood fretboard (Fretted part)/ Bubinga fretboard (Fretless part)

SRAS special (fretted) inlay

fret

Medium frets/Fretless

number of frets

Fretless=24/Fretted=22

bridge

MR5 bridge(Fretted)/ AeroSilk MR5 bridge(Fretless)

neck pickup

SRAS Super J neck pickup

Passive

bridge pickup

SRAS Super J bridge pickup

Passive

equaliser

Ibanez 2-band EQ w/Piezo active tone control w/Piezo/Mix/Magnetic 3-way pickup selector

factory tuning

1G,2D,3A,4E,5G,6D,7A

strings

D'Addario® Roundwound (fretted)/D'Addario® Flatwound (fretless)

string gauge

.045/.065/.085/.105/.045/.065/.080

NECK DIMENSIONS

c : Thickness

21.5mm

at 1F

d : Thickness

23.5mm

at 12F

Radius :

R950mm for fretted/ R0mm (flat) for Fretless

DESCRIPTION

Guitar Neck Diagram
a: Width of the neck at the nut
b: Width of the neck at the fret position specified by the neck dimension
c: Thickness of the neck at the first fret
d: Thickness of the neck at the fret position specified by the neck dimension
Radius: Radius of the fingerboard

CONTROLS

DESCRIPTION

With the bass held in the playing position, there are three small knobs along the lower edge of the body. From the lower bout towards the neck they are; Piezo tone knob, magnetic pickup treble knob, and magnetic pickup bass knob. There are three knobs, above the smaller knobs, that are closer to the bridge. From the lower bout towards the neck they are; piezo volume knob, magnetic pickup balance knob and magnetic pickup volume knob. There is a 3-way pickup selector switch very close to the end of the body, near the input jack. When the switch is in neck position, the piezo pickup is selected. When the switch is in center position, both piezo and magnetic pickups are selected. When the switch is in bridge position, magnetic pickup is selected. You can adjust piezo gain for the 5th, 6th, and 7th string with the trim pots located at the back panel. To boost the gain, turn the trim pots clock wise with a Philips head screwdriver. To cut the gain, turn the trim pot counter clockwise. The trim pots are lined up in order of the strings.

FREQUENCY RESPONSE

DESCRIPTION

The bass boost/cut frequency curve has a peak at 20 Hz and a variable width that decreases toward the high range, and a curve that the variable width becomes zero at approximately 1000 Hz. The variable range becomes slightly larger in the high range than around 1000 Hz, but it becomes zero again near 5000 Hz. The variable range of the peak frequency is approximately ±15 dB. The treble boost/cut frequency curve creates a bell-shaped curve with a peak around 10000 Hz and zero variable range around 100 Hz. The variable range of the peak frequency is approximately ±15 dB.

OTHER FEATURES
Features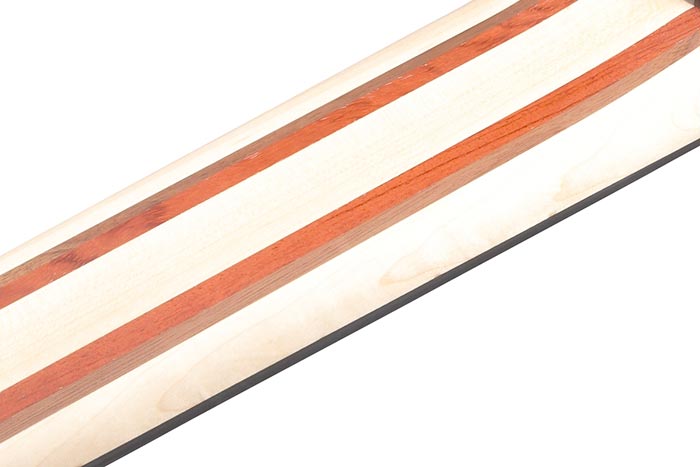 7pc Maple/Walnut/Bubinga neck
The 7pc Maple/Walnut/Bubinga neck is extremely stable. It transmits the string vibration to the body well and stays in tune when played with firm intonation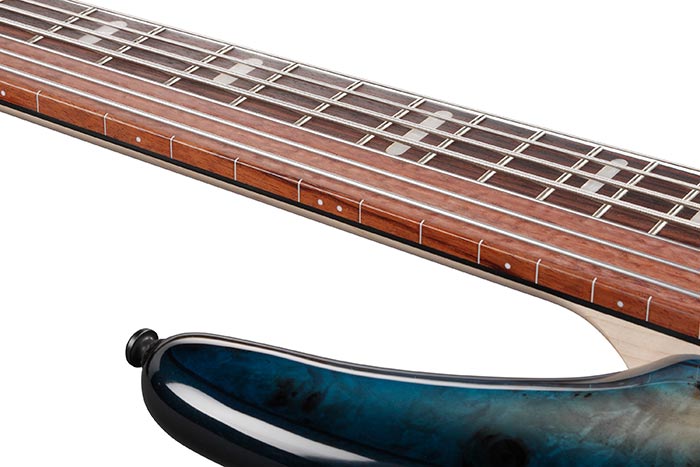 Indian Rosewood (Fretted part)/ Bubinga (Fretless part) fretboard
Rosewood fretboard provides a well-balanced solid tone with a focused mid range. Bubinga fretboard offers tight-low and edgy-mid sound.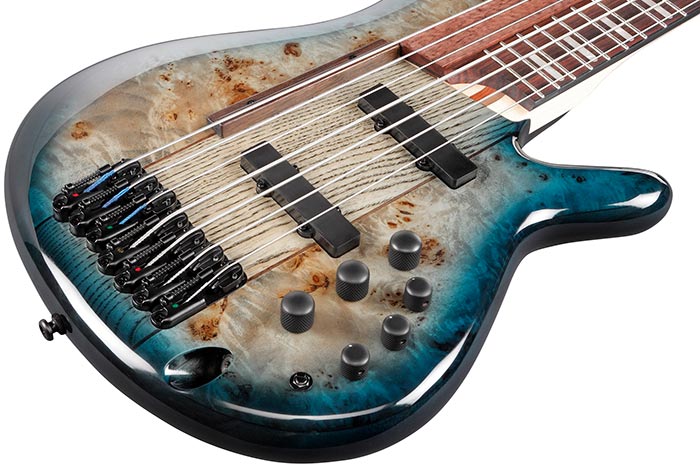 Poplar Burl / Ash top / Okoume body
A stunning Poplar Burl/Ash top with an Okoume body provides bright and solid tones with rich sustain.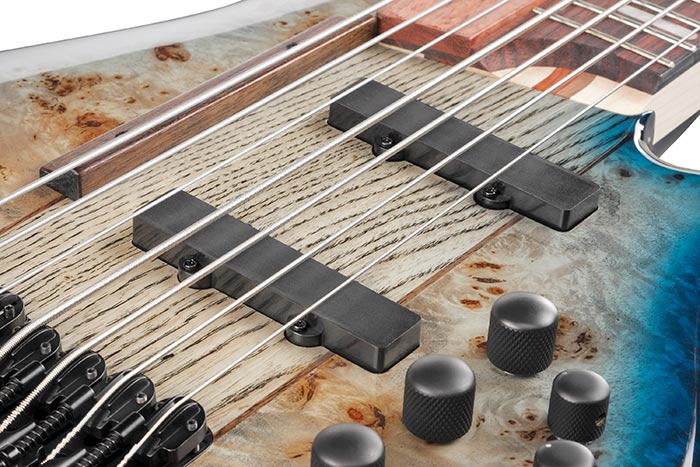 SRAS Super J / AeroSilk piezo pickups
The SRAS Super J pickups provide a clear, bright and rich dynamic tone. AeroSilk piezo pickup enhances an acoustic and wooden sound of similar to an upright bass.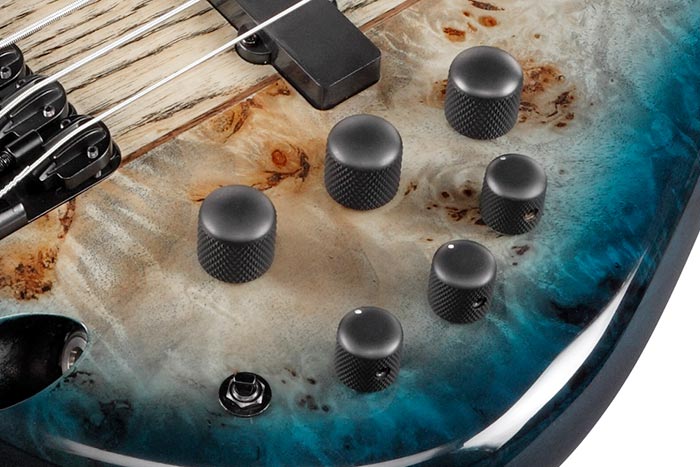 Ibanez 2-band EQ w/Piezo active tone control
The EQ section incorporates the controls of the magnetic pickup(s) with the AeroSilk Piezo system. Controls include a Master volume, bass and treble controls for the pickup(s) and a Master volume and a tone control for the Piezo system.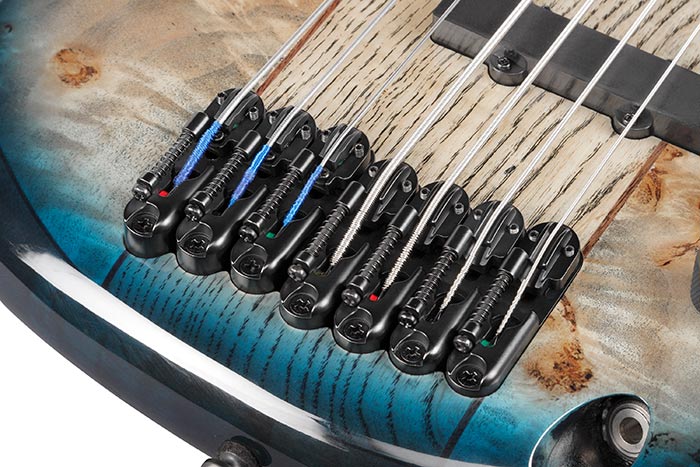 MR5(Fretted)/ AeroSilk MR5(Fretless) bridge
The Mono-Rail V is the ultimate bridge for bass string isolation. Each bridge is independently and securely locked down to the body for maximum vibration transfer without interference. The AeroSilk MR5 bridge has unique saddles which were specifically-designed to work in concert with the piezo pickups, enhancing the acoustic "Upright" quality of the tone.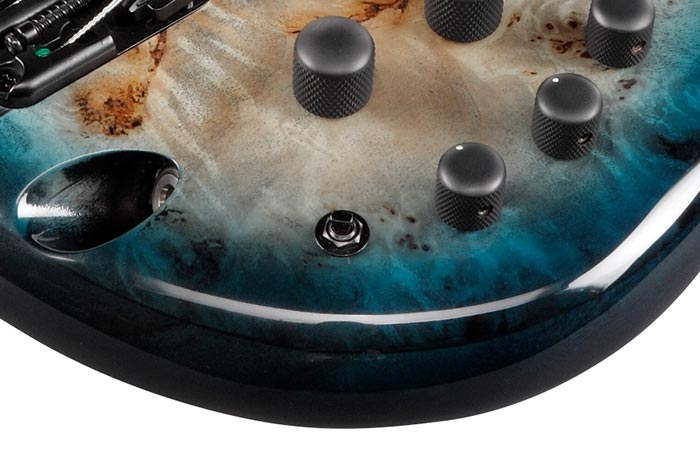 Piezo/Mix/Magnetic 3-way pickup selector
Various tonal possibilities provided by the 3-way selection of pickup options magnetic, piezo or a mix of both will inspire your musical creativity and curiosity.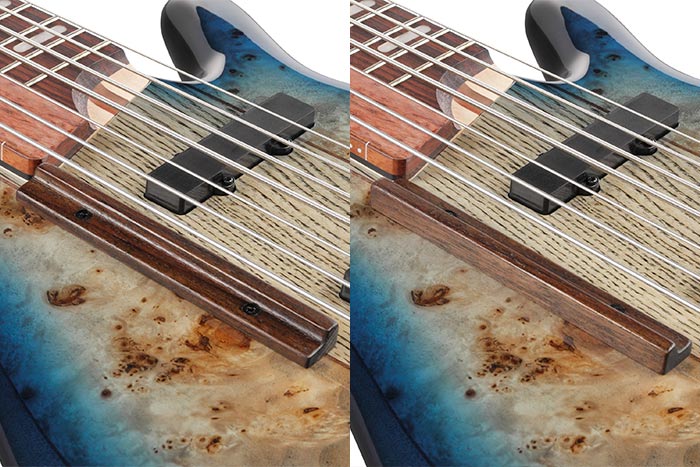 The detachable finger rest offers two options; placing your thumb near the fretboard outline or in an upper location.
YOUR RECENTLY VIEWED PRODUCTS