JCRG2103 LBT

:

Lander Blue Turquoise
SHARE:

RG
SPEC
SPECS

neck type

RG j.custom Wizard

3pc Wenge/Purpleheart neck

top/back/body

Exotic Maple & Gold Resin top

African Mahogany body

fretboard

Ebony fretboard

Blue Resin dot inlay

fret

Jescar EVO Gold fert

j.custom fret edge treatment

neck pickup

DiMarzio® Air Norton™ (H) neck pickup

Passive/Alnico

bridge pickup

DiMarzio® The Tone Zone® (H) bridge pickup

Passive/Alnico

factory tuning

1E,2B,3G,4D,5A,6E

strings

D'Addario® EXL120

string gauge

.009/.011/.016/.024/.032/.042

NECK DIMENSIONS

d : Thickness

20mm

at 12F

DESCRIPTION

Guitar Neck Diagram
a: Width of the neck at the nut
b: Width of the neck at the first fret
c: Thickness of the neck at the first fret
d: Thickness of the neck at the twelfth fret
Radius: Radius of the fingerboard

SWITCHING SYSTEM

DESCRIPTION

When the coil tap switch is in neck position, coil tap is on. When the coil tap switch is in bridge position, coil tap is off. When coil tap is off and the pickup selector switch is in the neck position, the neck pickup is selected. When the switch is in the center position, both neck and bridge pickups are selected. When the switch is in the bridge position, the bridge pickup is selected. When coil tap is on and the pickup selector switch is in the neck position, the bridge side of the neck pickup is selected. When the switch is in center position, the bridge side of the neck pickup and neck side of the bridge pickup are selected. When the switch is in bridge position, neck side of the bridge pickup is selected.

CONTROLS

DESCRIPTION

With the guitar held in the playing position, the three-way pickup selector switch is the control closest to towards the direction of the neck. There are two knobs near the end of the body. The one closest to the end of the body is the tone knob, and the knob closest to the neck is the volume knob. There is a coil tap switch between the two knobs. When the switch is in neck position, the coil tap is on, and when the switch is in bridge position, the coil tap is off.

OTHER FEATURES

Gotoh® Strap lock pins
Features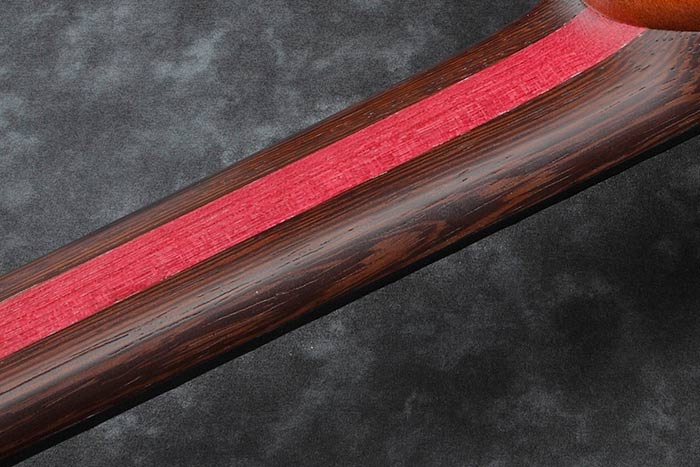 Wizard 3pc Wenge/Purpleheart neck
Ibanez's thin, flat and fast Wizard neck is strong and sturdy and offers unlimited playability for demanding players.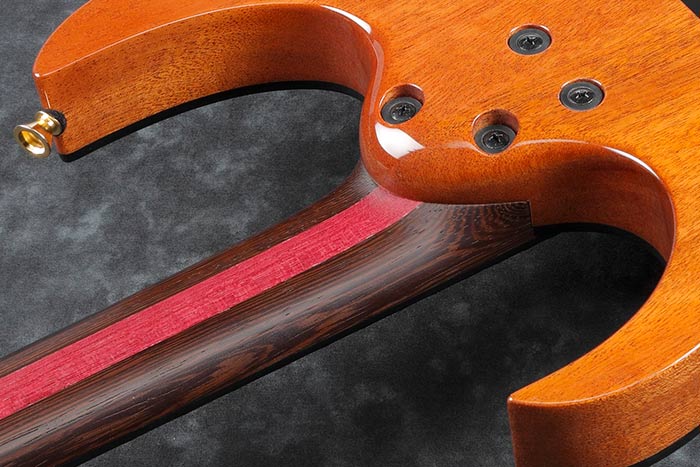 All Access Neck Joint
All Access Neck Joint offers superior playability at the high frets.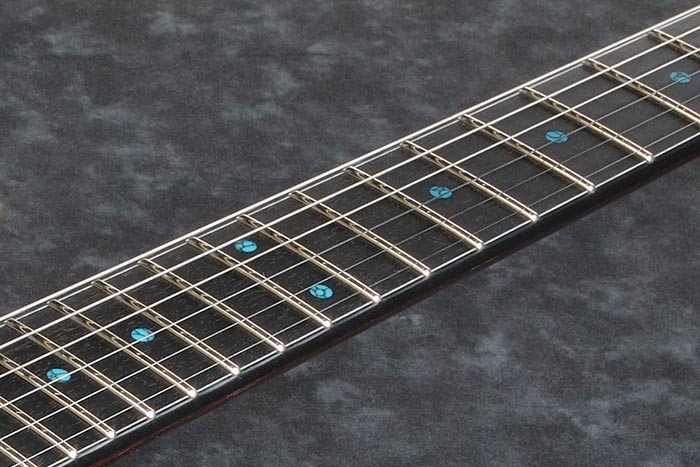 Ebony fretboard
Ebony produces tight lows and mid range with a strong attack in the high end and features a quick response and rich sustain.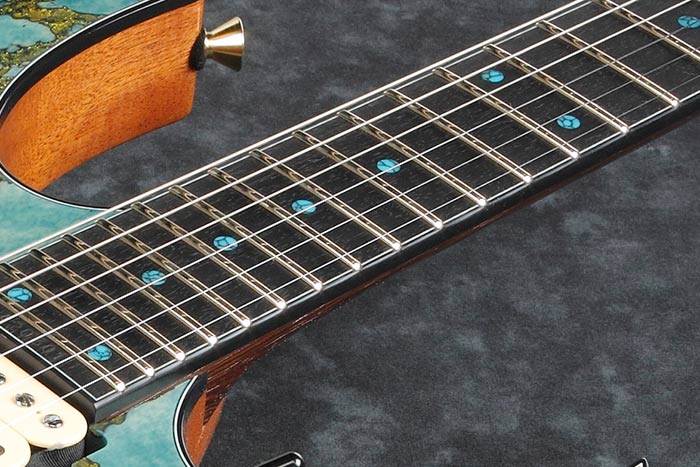 Jescar EVO Gold with j.custom fret edge treatment
Jescar EVO gold frets are known for their bright tone, gorgeous gold appearance and player-friendly features such as long durability and smooth note bending.
The j.custom fret edge treatment provides the ultimate smooth touch around every single fret.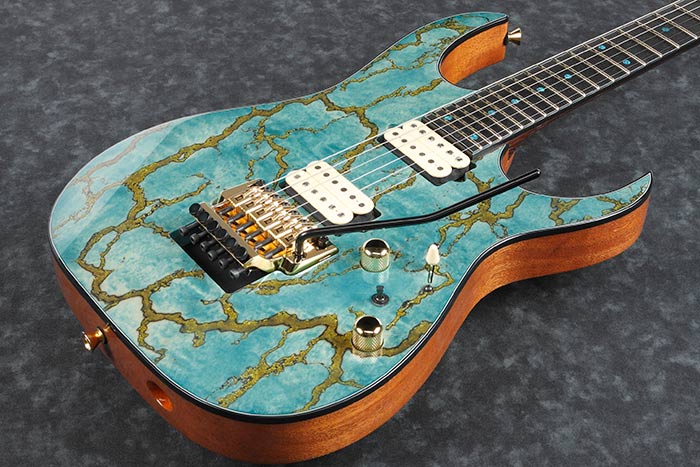 Exotic Maple & Gold Resin top / African Mahogany body
A stunning Exotic Maple/Gold Resin top on an African Mahogany body provides a warm tone with rich resonance.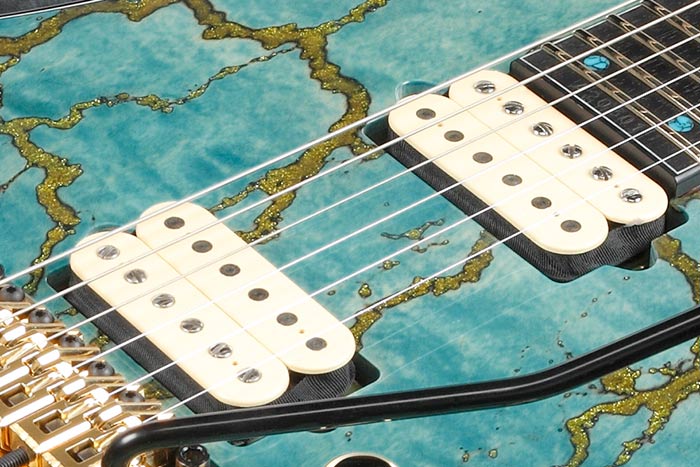 DiMarzio® Air Norton™ / The Tone Zone® pickups
A pair of high-output DiMarzio Air Norton™ and The Tone Zone® pickups provides a huge sound with a broad dynamic range.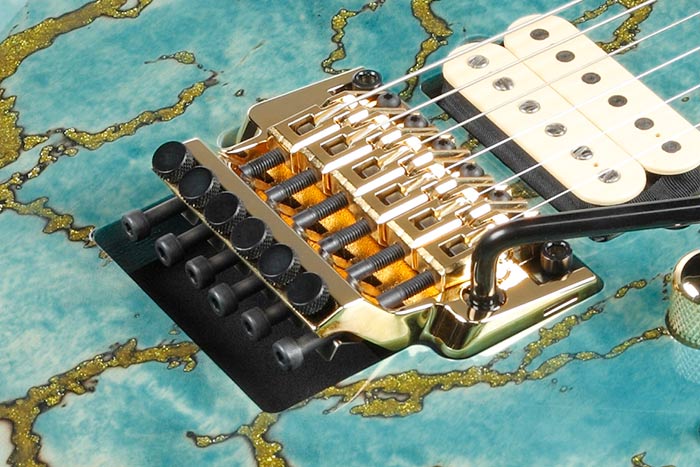 Edge tremolo
The masterpiece Edge bridge offers exceptional tuning stability, precise intonation adjustment, and playing comfort.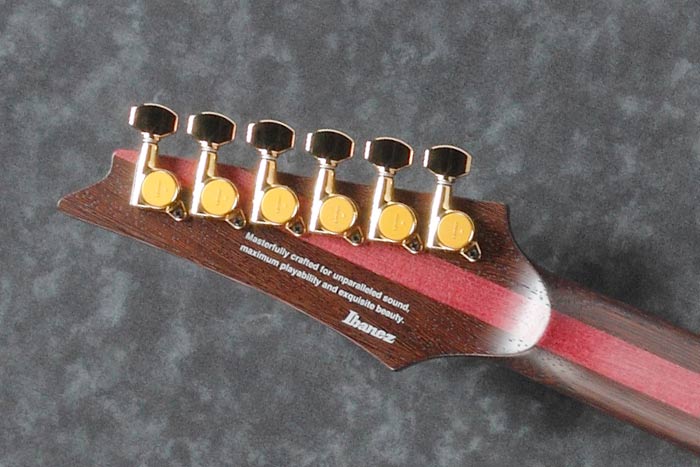 Gotoh® machine heads
Gotoh® machine heads provide super precision, smooth feel, and minimal back lush.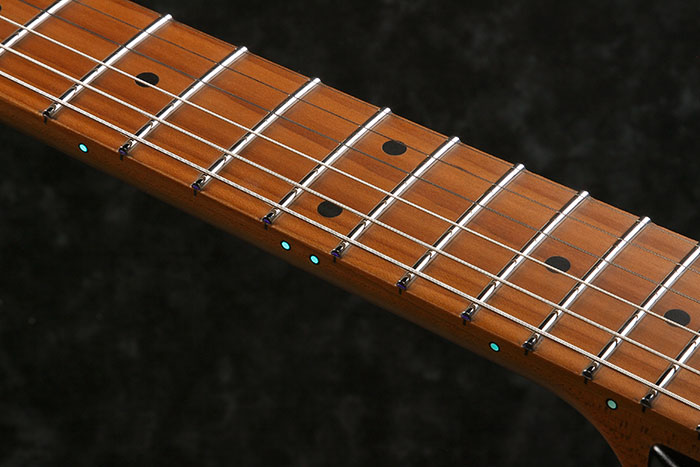 Luminlay side dot inlays
The Luminlay side dot position marks make it easy for players to see fretboard position marks when performing on dark stages.
YOUR RECENTLY VIEWED PRODUCTS