 BSN

:

Black Satin Top, Natural High Gloss Back and Sides
JGM
SPEC
SPECS

body shape

Asymmetrical Jumbo body

bracing

Thermo Aged™ Spruce Modified X-M Bracing

top

Thermo Aged™ Solid Sitka Spruce top

back & sides

Solid Pau Ferro back

&

Solid Pau Ferro sides

neck

JGM

African Mahogany/Pau Ferro 5pc neck

fretboard

Macassar Ebony fretboard

bridge

Macassar Ebony top loading bridge

body binding

Macassar Ebony body binding with rounded body edge

top board purfling

Wooden

soundhole rosette

Specially Designed Wooden

tuning machine

Chrome Die-cast tuners(18:1 gear ratio)

saddle material

Compensated Bone

strings

D'Addario® XTAPB1256

string gauge

.012/.016/.025/.035/.045/.056

factory tuning

1D,2A,3G,4D,5G,6C

pickup

Fishman® Rare Earth Mic Blend Active Soundhole, Tap

preamp

Fishman® PowerTap Earth Blend preamp

output jack

Dual Outputs (2 endpin jacks - 1 stereo/mono output capability built in (with strap button) - 1 mono flush mount)

NECK DIMENSIONS

c : Thickness

20.5mm

at 1F

DESCRIPTION

Guitar Neck Diagram
a: Width of the neck at the nut
b: Width of the neck at the fret position specified by the neck dimension
c: Thickness of the neck at the first fret
d: Thickness of the neck at the fret position specified by the neck dimension
Radius: Radius of the fingerboard

BODY DIMENSIONS

DESCRIPTION

Guitar Body Diagram
A: Length of the body
B: Maximum width of the body
C: Maximum depth of the body

PREAMP

DESCRIPTION

With the guitar held in the playing position, there is a knob affixed to the pickup assembly, which controls the output balance between the microphone and magnetic pickup. When turned fully counterclockwise, the output is coming the pickup only, in the middle position, the output is an equal blend of the pickup and microphone. When turned clockwise, the output is coming from the microphone only. Slightly below the pickup is a switch that controls the low frequencies of the microphone. When the switch is the up position, the low frequency range of the microphone is cut. When the switch is the down position, the low frequency range of the microphone output is neutral.

OTHER FEATURES
Features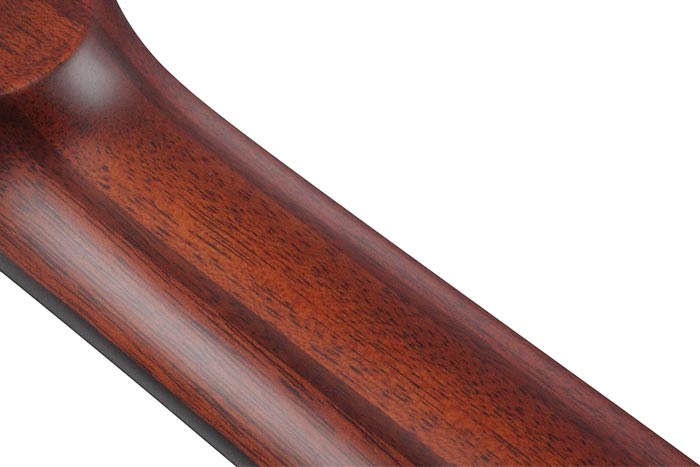 5pc African Mahogany/Pau Ferro neck
The African Mahogany and Pau Ferro 5pc neck has enhanced durability.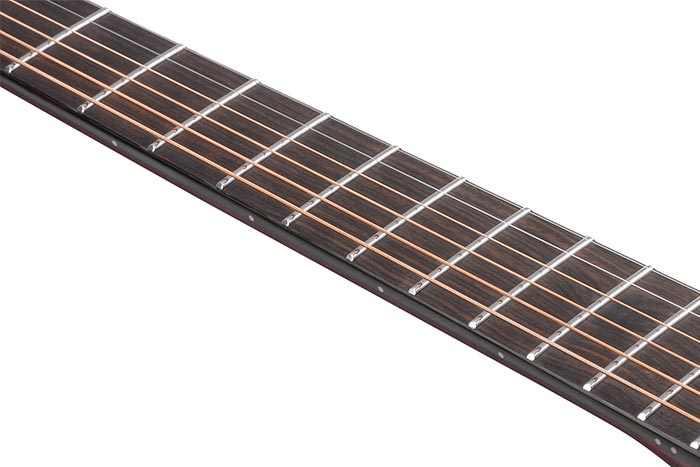 Macassar Ebony fretboard
Macassar Ebony produces tight lows and mid range along with strong attack in the highs and quick response with rich sustain.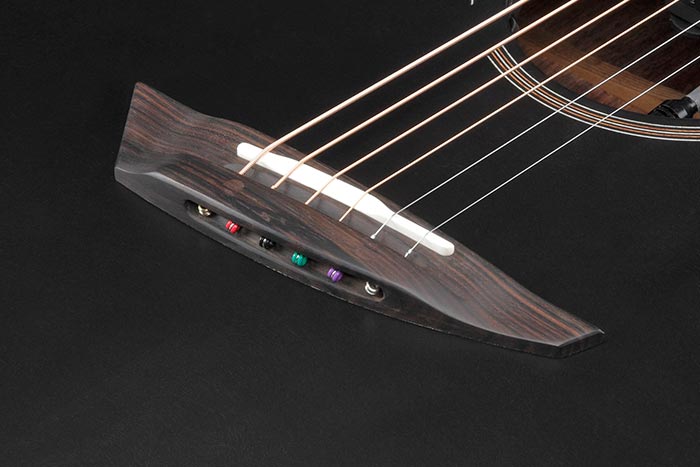 Macassar Ebony top loading bridge
For a better percussive sound, the Macassar Ebony bridge features a top loading system without a bridgepin. It also offers a fast and easy method for string changes.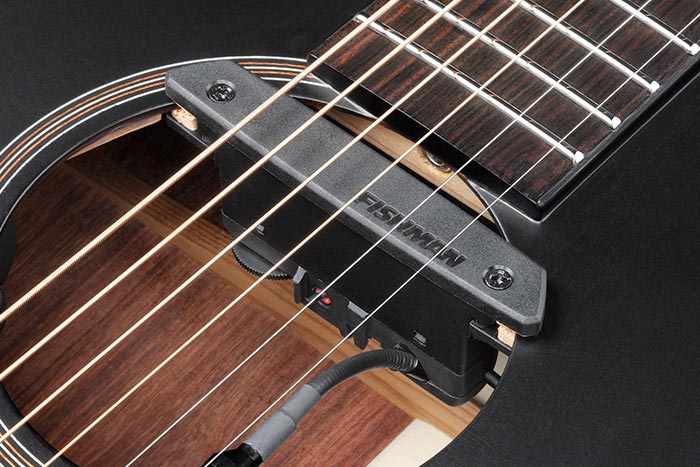 Rare Earth Mic Blend Active Soundhole pickup, Tap pickup
The combination of Fishman Rare Earth Mic Blend Active Soundhole pickup and Tap pickup offers a warmer, more natural acoustic tone with clarity of sounds.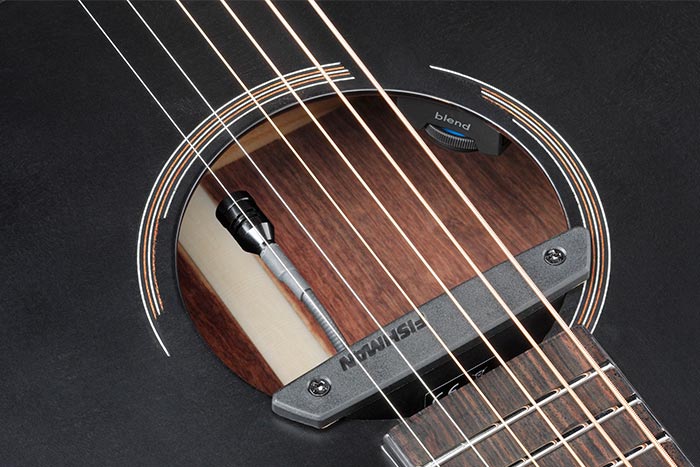 PowerTap Earth Blend
Blending the Rare Earth Mic Blend Active Soundhole pickup with Tap pickup, Fishman PowerTap Earth Blend system allows the guitar to capture the string vibration through the whole body and neck, which provides a rich acoustic tone and a dynamic percussive sound from the body and neck.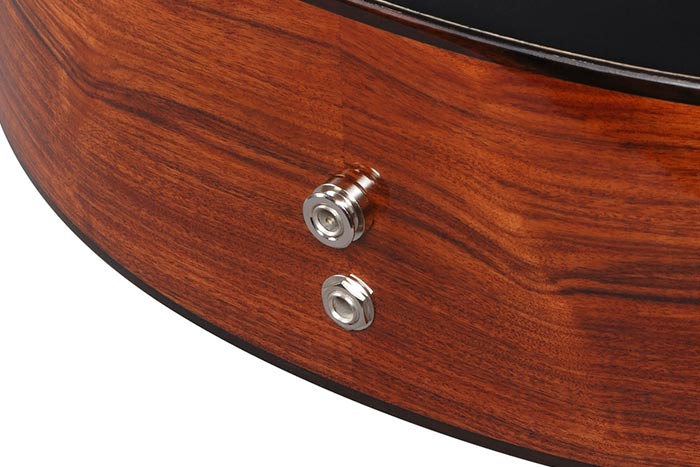 Dual Outputs (Magnetic pickup/Contact pickup/Microphone outputs)
Plugged into the endpin jack only: Magnetic pickup + Contact pickup + Microphone with mixed output
Plugged into both the endpin jack and the mono flush mount endpin jack: Magnetic pickup, Contact pickup and Microphone running independently. (a TRS to TRS cable or a TRS to stereo "Y" cable should be used). Endpin Jack = Magnetic pickup, Microphone output, Mono flush mount endpin jack = Contact pickup output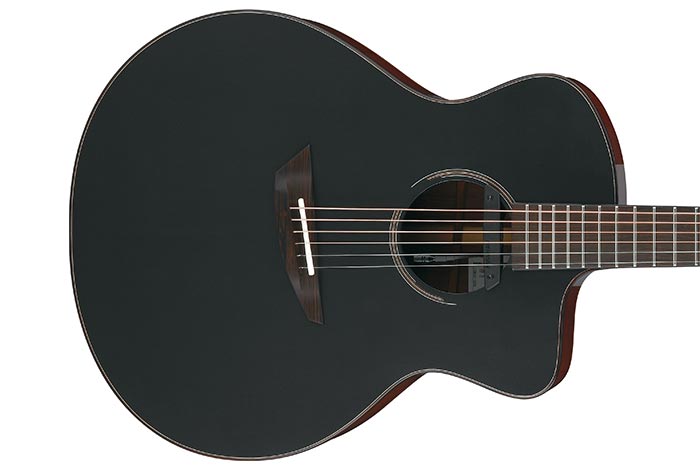 Asymmetric jumbo body
Developed for modern fingerstyle players, the asymmetric jumbo body features a low-end focused sound and tapping friendly shape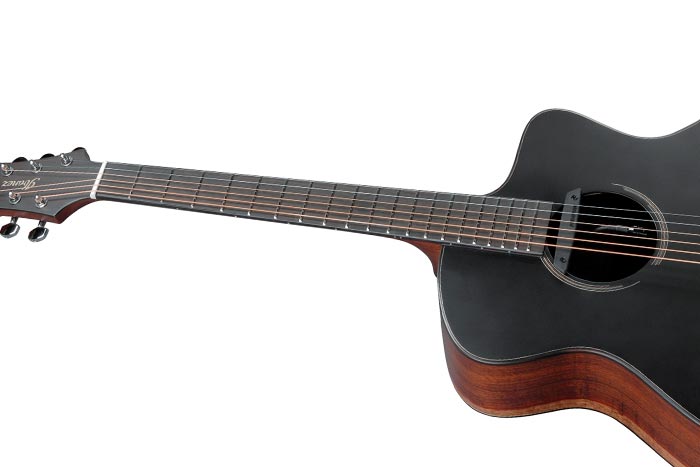 25 3/4 inch scale
A 25 3/4 inch scale helps to maintain proper tension and pitch even while down tuning, a technique modern finger players often utilize. This scale-length also delivers improved sustain.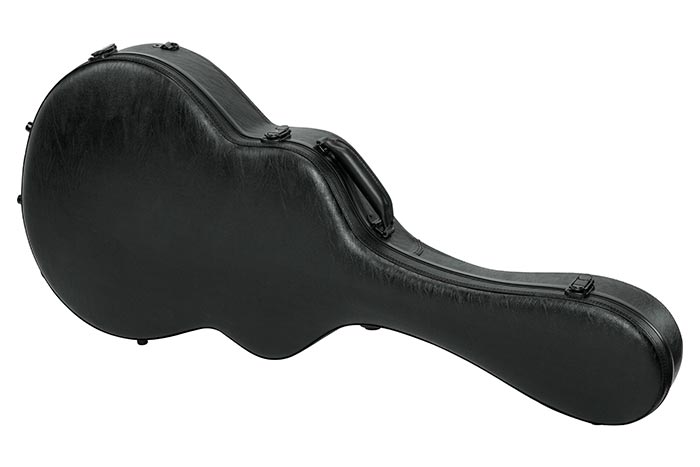 Fiberglass case included
The Ibanez fiberglass case offers extreme protection for your instrument.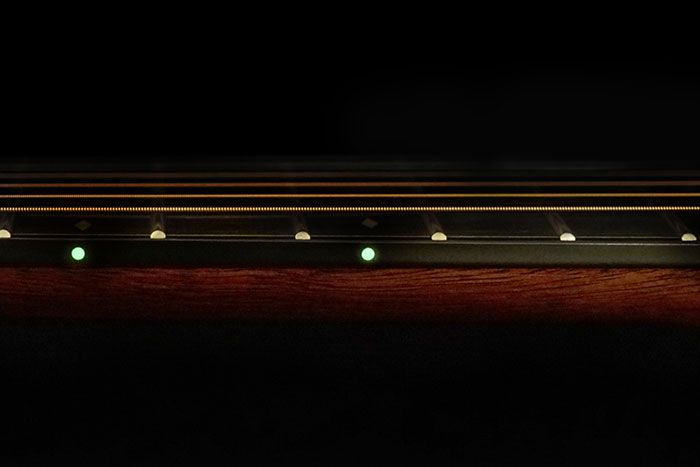 Luminescent Side Dot Inlays
Luminescent side dot inlays line the side of the neck for more easily navigating the fretboard in low light environments.
YOUR RECENTLY VIEWED PRODUCTS